Growing Roots in the Land of Their Fathers
By: Yudit Setz, ICEJ Deputy and Director
The ICEJ's Home for Holocaust Survivors in Haifa has 17 new residents from Ukraine who recently arrived in Israel. Most did not voluntarily choose Aliyah but were forced to flee their homes, leaving behind friends and everything they had known to come to Israel with a lone suitcase of belongings. Besides needing a place to live, clothing, and other basics, their greatest need is to connect to other people—even find a community where they can put down roots in the Land of their forefathers. 
Learning Hebrew
Many of these new residents only speak Ukrainian and Russian, while a few know a little English. Sometimes they feel helpless because they can't communicate with others, read street names, or write their names for local Israelis.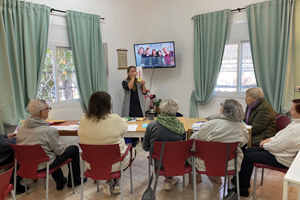 We decided to meet this challenge by offering them Hebrew lessons at the Haifa Home. Our newest ICEJ staff member, Maria, is a teacher, and she began teaching Hebrew to these precious Survivors. 
After mastering the Hebrew alphabet, they slowly begin learning words and are given homework to do—and they love it! 
One elderly "student" commented: "We are so blessed to have our lessons here. Many people spend so much time going somewhere for language lessons, but we can study it almost from our home. Our teacher really wants us to be successful and to learn Hebrew. It is so nice!" 
Another new resident from Ukraine thanked our team for the work we are doing, saying: "Learning Hebrew is very important, but it doesn't really matter if the student learns it fluently or not. The most important thing is that we communicate with each other, come together, and create a community. By doing this, you are making our lives longer." 
Yet another student was eager to share her excitement about the Hebrew lessons: "When the maintenance man came by to fix something in my home, I had offered him some cakes, which he didn't want. However, he told me he would like some mayim (water), and I understood what he wanted for the first time! And I gave him a glass of water."
Ella Shares Her Experience
Ella joined the ICEJ team at the Haifa Home last year as an assistant nurse and is already making an impact on the residents. She knew that she wanted to put her command of languages to good use serving the people in the Land of Israel—in addition to English, Hebrew, and Arabic, Ella also speaks Russian and Romanian.  
Language is indeed the door to people's hearts. Ella can see how she can connect in a deeper way with residents by speaking their language and explained how Rivka, a new resident who came to Israel from Romania, specifically asks her to speak in her mother tongue, even though she speaks Hebrew perfectly. "Ella, please speak Romanian to me," insists Rivka. This connection is precious!  
"My heart is for people, and I connect easily with them. In turn they open their heart to me," shared Ella with a smile. "Every day I feel that I am in the right place, and I am very happy to be here and serve our residents."
Meet Rivka
Rivka, one of our newest residents at the Haifa Home, is 85 years old. Below is her story of surviving the Holocaust.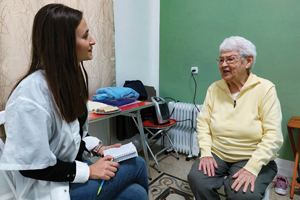 "I was born in Romania, in the city of Iasi, which suffered the worst of Romania's pogroms. Ten thousand Jewish people died there in 1941. Before the war started, we lived in a nice, big house with a lovely garden that my grandmother bought with gold. My father worked tirelessly as a wood etcher and was a wealthy man. We were thrown out of our home when the Germans came and left with nothing. People from rural areas were moved into our homes. 
"After the eviction, we had to rent apartments and moved several streets during that time. In the winter of 1941, my father was sent to forced labor in the city of Alba Iulia. My mother was left to fend for herself and her three children. When my father came back, he was very sick. He had lost half his weight and was a broken man. He also returned with asthma, which affected him for the remainder of his life. 
"After the war, we were not permitted to leave for Israel. Some people, like my brother, made their way to Israel anyway, then called 'Palestine.' They passed through several other countries but were denied entry into Israel by the British and sent to Cyprus. 
"Meanwhile, my family and I stayed in Romania, in Bucharest. As we waited, the times were not easy, as there was hardly any food. In 1950 we finally received passports and could leave. We sailed to Israel and arrived three days later. I was 12 years old. Upon our arrival, we were sprayed for lice and then sent to Atlit, where we were housed in a residence formerly belonging to the English army. Each family received a blanket. I recall my father brought two empty orange crates, and my mother placed a tablecloth over them, and that was our dining table. Regardless, my father said, "It's so wonderful to be in Israel!" 
"We lived in Atlit for eight months, then moved to Tirat HaCarmel, where we stayed in a tent. Afterward, we lived in a shed for two years until we were finally permanently housed. Later, I met my husband, Eliezer, a Holocaust Survivor who was also from Romania. We lived in Tirat HaCarmel and had two children, from which we have four grandchildren. 
"Two years ago, my husband got a severe case of dementia and had to be moved to a nursing home. Living alone was difficult for me, so I finally decided to move to the Haifa Home. I heard about it from my cousin, who has been living here for 10 years. 
"I have no words. I was welcomed so beautifully. I already have a group of friends, and I sit with them every day after dinner to talk about all kinds of subjects that are important to us. If I had known earlier what this place was like, I would have moved here years ago!"
Celebrating Birthdays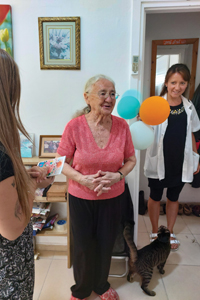 In the Haifa Home for Holocaust Survivors, every birthday is special and a victory of life! For the residents, whose ages vary from 80s to 90s—and even near or past 100 years old—many no longer look forward to aging, but their birthday is celebrated nonetheless!" 
The ICEJ team of workers and volunteers take it upon themselves to celebrate each and every birthday and visit the celebrant with a song, balloons, and a personalized card just for them. 
"It's amazing that you all came to surprise me like this," said resident Emma Kleiner on her birthday. "It makes a person feel not so all alone."  
It is important to our team that our residents feel seen, cared for, and uplifted. 
"It's not about presents or cake," said Chaya, who just turned 90 years old. "It's the personal attention that matters to us." 
---
Consider partnering with us to care for these precious Holocaust Survivors.