ICEJ Webinar Series
The Israeli Expert Who Predicted this War
In the video above we hear from Yigal Carmon of MEMRI who correctly warned in July that Hamas was planning a major attack from Gaza in September/October. Carmon is a veteran of Israeli intelligence, was an Arab Affairs adviser to Prime Minister's Yitzhak Shamir and Yitzhak Rabin, and then founded MEMRI, the best public source for media monitoring and analysis in the Middle East. He also has some chilling things to say about how Hamas and other Islamist militias are dead set on targeting not just Jews but also "treacherous Christianity" – the exact words recently of a chief Hamas spokesman.
Recorded: Thursday, October 12, 2023
---
I welcome you to join us for other informative webinars featuring global leaders speaking on topics specifically geared for Israel-minded Christians join us each Thursday. 
Recent topics have included:
What's New at the Feast?
Are Israel-Christian Relations in Crisis?
Feast Update Part 2
Feast Update Part 1
The Apostles' Teaching on Giving to Israel
Middle East Status Update: Energy, Politics, Security
Celebrating Israel at 75
Terror and Rockets at Passover
The Iran-Saudi deal and it's Impact on Israel
Israel's Divide Over Judicial Reforms, Part Two
Israel's Divide Over Judicial Reforms, Part One
Lessons From Purim
One Year of Urgent Ukrainian Aliyah
Israel to the Rescue: The Relief Mission to Turkey
How Can We Fight Antisemitism Together?
Best of Envision Speakers 2023
Does Israel Need Judicial Reforms?
Security Challenges of the New Israeli Government
Messianic Motifs in the Life of Joseph
These webinars take place on Zoom: on.icej.org/ICEJWebinar.
We hope you can join us.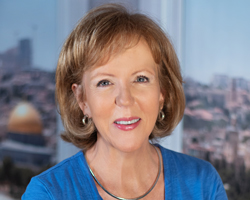 For Zion's sake,
Susan Michael
USA Director