Ending the Israel Hate-Fest at the UN
Watch the video of "Ending the Israel Hate-Fest at the UN" to get the most up-to-date information on the way Israel is being treated on the world scene.
---
I welcome you to join us for other informative webinars featuring global leaders speaking on topics specifically geared for Israel-minded Christians join us each Thursday at 9:00am EST. 
Recent Topics have Included:
The Tragedy of Afghanistan
Possessing the Gates of our Enemies I & II
The New Israeli Government
Resurrection and First Fruits
Passover and the Cross
The Israeli Elections
The ICC Decision Against Israel
The Christian Role in Israel's Rebirth
Christians and the Holocaust
These webinars take place on Zoom: on.icej.org/ICEJWebinar.
We hope you can join us.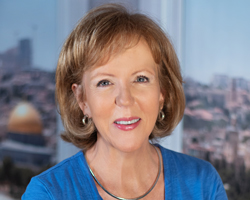 For Zion's sake,
Susan Michael
USA Director