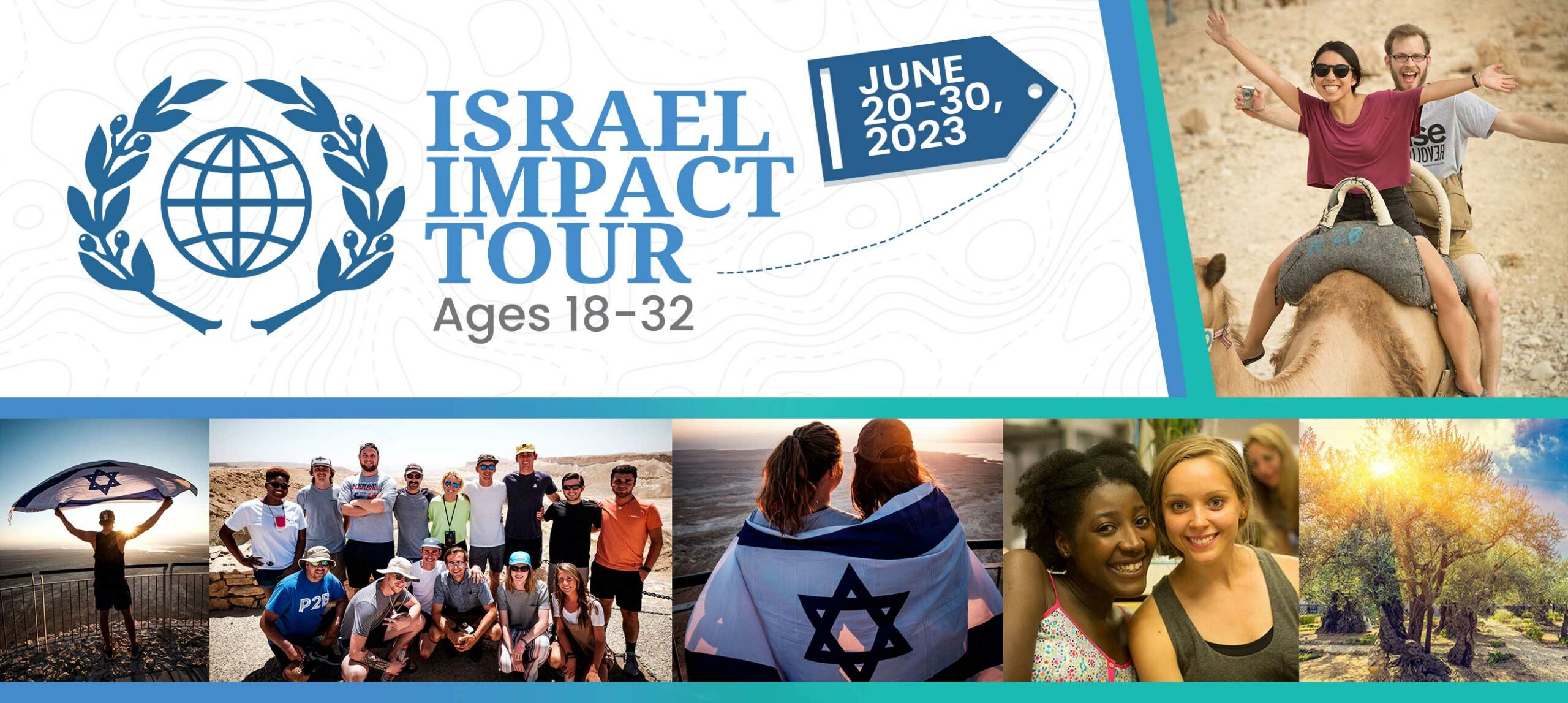 Israel Impact Tour // June 20-30, 2023 // Ages 18-32 // Land Package Price Coming Soon
Join the Israel Impact Tour for a life changing trip to the Holy Land! In these unprecedented times we are inviting you to be COURAGEOUS and take the leap of faith on the journey of a lifetime to the Land of ISRAEL. If you are a Young Adult ages 18-32 and have a desire to see the land of the Bible, register by clicking on the button below.
Show God's love for the people through practical outreach projects and experience firsthand what God is doing in Israel today.
Make new friends from all over the world as we pray, worship, learn, laugh and experience Jesus together in the Holy Land.
Together let's explore the area of the Sea of Galilee, visit the Golan Heights and pray for the neighboring countries, walk through the Old City of Jerusalem or take part in a Shabbat meal, be a helping hand through a social project, worship under the stars in the desert, ride a camel and sleep in a Bedouin tent in the desert, float in the Dead Sea, explore the ancient city of Jerusalem, visit amazing archeological sites, hike Masada before sunrise, relax on some of the most stunning beaches in Israel… and much more!

Package Includes
• International flights from the USA to Israel and return from Israel to the USA
• Meeting and assistance upon arrival
• Transfer from the airport upon arrival and departure
• 8 full days touring
• 9 nights hotel accommodation
• Half Board Accommodation (breakfast and dinner)
• Two special lunches
• Half board (full daily breakfast buffet and dinner buffet)
• All excursions, sites, and entry fees to national parks
• English-Hebrew Licensed Tour Guide
• Modern Air Conditioned Bus
• Bus with WIFI onboard
• Welcome Kit
Package Does Not Include
• Travel Insurance
• Any personal medical related expenses
• Entrance visa fees (if required by your country of origin)
• Lunches unless specified on the itinerary (US$8-US$14 per lunch depending on location and food preference)
• Tips ($160 per person)
• Personal spending money or expenses (snacks, souvenirs, etc.)
June 20-30, 2023
Tour Itinerary

Day 1 • Tuesday, June 20
Day 2 • Wednesday, June 21
Arrival in Israel at Ben Gurion Airport
Arrival
Independence Hall – Tel Aviv
Orientation Meeting
Hotel | Netanya
Day 3 • Thursday, June 22
Morning swim in Mediterranean
Haifa Home Project Outreach
Carmel
Precipice Overlook
Ohalo/ Galilee
Day 4 • Friday, June 23
Sea of Galilee Boat Ride
Beit Yigal Allon Museum
Devotions Mt. of Beatitudes
Fish Lunch by the Sea included
Capernaum
Magdala
Shabbat Dinner at the hotel
Ohalo/ Galilee  
Day 5 • Saturday, June 24
Peter's Primacy – Morning Devotions
Tel Dan
Banias/Caesarea Philippi
Bental – Syrian overlook
Kayaking down the Jordan River
Ohalo / Galilee
Day 6 • Sunday, June 25
Qasr El Yahud Baptismal Site
Qumran
Swim in the Dead Sea
Camel rides into the desert
Kfar HaNokdim Bedouin Tent Oasis | Arad
Day 7 • Monday, June 26
Masada with cable Car
Ein Gedi Springs and lunch
of Olives
Dominus Flevit
Garden of Gethsemane
Jerusalem Gold | Jerusalem
Day 8 • Tuesday, June 27
Temple Mount
Pools of Bethesda/ St. Anne's Church
Antonio Fortress
Via Dolorosa
Church of the Holy Sepulcher
Lunch Christian Quarter and shopping
Garden Tomb
Jerusalem Gold | Jerusalem
Day 9 • Wednesday, June 28
Peter Galitcantu
City of David/Pool of Siloam
Southern Steps
Western Wall
Lunch Jewish Quarter and Cardo
Zion & Upper Room
Israel Museum
Jerusalem Gold| Jerusalem
Day 10 • Thursday, June 29
Yad Vashem – special holocaust survivor meeting.
Lunch Abu Gosh
Caesarea Marittima
Final Dinner Abrage Joppa
Depart for Airport 9:00pm
Day 11 • Friday, July
Arrival to USA