First-Hand Accounts of Rescuing Holocaust Survivors from Ukraine
Shimon Sabag, President of Yad Ezer L'Haver and our partner at the Haifa Home for Holocaust Survivors left the comfort of Israel and traveled to Ukraine on a mission to help extract elderly Holocaust Survivors from the hellish conditions of war in Ukraine. We are blessed and humbled to working along side him to help accomplish this noble goal. In this timely webinar he gave us a first-hand update on how the rescue missions are faring. Also on the call, hosted by ICEJ President Dr. Dr. Jürgen Bühler was Nicole Yoder, ICEJ VP, AID and Aliyah who gave updates on what is happening and how we are assisting these Holocaust Survivors, and other Ukrainian Jews as they cross the border of Ukraine into safety.
Recorded:  March 30, 2022
---
I welcome you to join us for other informative webinars featuring global leaders speaking on topics specifically geared for Israel-minded Christians join us each Thursday. 
Recent topics have included:
Impact of the Ukraine Conflict on Israel
Ukraine and the Message of Purim
Update on Rescue of Ukrainian Jews
Update and Prophetic Thoughts on Ukraine
The Continuing Impact of the Abraham Accords
A Short History of Christian Zionism
Update from the North
The Newer Testament
Israel and the Challenges of Delegitimization
The Newer Testament
Update from the North
Ending the Israel Hate-Fest at the UN
From Festival to Festival
Deitrich Bonfoeffer on the Christ-Centered Life
The Kindling of Biblical Zionism
The Contradictions of Paul
Yom Kippur Webinar
Rosh Hashanah Webinar
These webinars take place on Zoom: on.icej.org/ICEJWebinar.
We hope you can join us.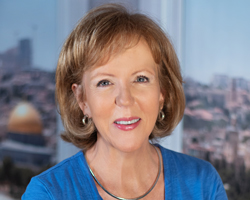 For Zion's sake,
Susan Michael
USA Director