Discover the Truth Face to Face
Israel Encounter Tours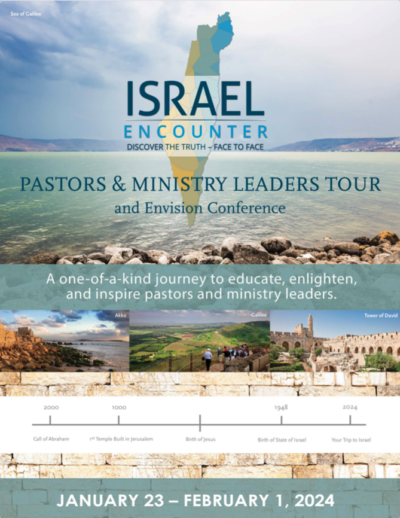 PASTORS & MINISTRY LEADERS TOUR
and Envision Conference
JANUARY 23 – FEBRUARY 1, 2024 // $3,995 Per Person
Price Per Person Includes:
Price Does Not Include:
Domestic travel/flight, if required, to and from Newark Liberty International Airport (EWR)
Travel Insurance (proof of travel medical insurance is required & travel and trip interruption insurance is optional)
Additional lunches, if desired – typically $15-$20 depending on location
Tips & Gratuities for tour guide, driver, hotels and special sites – $190 in cash per person
Already registered? Log in to your Tours Explority Website here to see your invoice, itinerary and access other important information.
View Brochure
Register Now
A one-of-a-kind journey to educate, enlighten, and inspire pastors and ministry leaders.
What You Can Expect
This Israel Encounter Tour will provide:
A life-changing experience with the Lord and His Word in the land of the Bible
A deeper connection with the scriptures and the Hebraic roots of our faith
Rich insight into your pastoral role in these prophetic days
Understanding of the biblical significance of modern Israel
Your ministry will be transformed as the Bible comes to life and you discover truth in a personal and dynamic way as we:
Pray in the Garden of Gethsemane and worship on the Sea of Galilee
Study the Word together with Christian leaders from across the US
Discover the biblical significance of Israel and gain a deeper understanding of God's calling on this generation
Return home with deeper insight and renewed passion to make a greater impact than ever before
ISRAEL ENCOUNTER: Discover the Truth–Face to Face!
Pastors and Ministry Leaders
Tour Itinerary
Day 1 • January 23
Departure – Nonstop from EWR
Day 2 • January 24
AM arrival to Israel
Caesarea Maritima
Mt. Carmel
Mt. Precipice
Orientation Meeting
Overnight in the Galilee
Day 3 • January 25
Sea of Galilee Boat Ride
Beit Yigal Allon Museum
Mt. of Beatitudes
Fish Lunch by the Sea
Capernaum
Tabgha
Magdala
Overnight in the Galilee
Day 4 • January 26
Peter's Primacy
Tel Dan
Banias/Caesarea Philippi
Mt. Bental
Overnight in the Galilee
Day 5 • January 27
Jordan River Baptism
Qumran
Ein Gedi
Dead Sea Swim
Overnight at the Dead Sea
Day 6 • January 28
Masada
Genesis Land
Mt. of Olives
Dominus Flevit
Garden of Gethsemene/Church of All Nations
Overnight in Jerusalem
Day 7 • January 29
Temple Mount
Pools of Bethesda/St. Anne's Church
Lithostrossos
Via Dolorosa
Christian Quarter
Garden Tomb
Evening: Envision Conference
Overnight In Jerusalem
Day 8 • January 30
Morning Meeting: Envision Conference
Yad Vashem
Lunch & Shopping
Israel Museum
Western Wall Tunnels
Evening: Envision Conference
Overnight in Jerusalem
Day 9 • January 31
City of David
Peter in Gallicantu
Jewish Quarter
Western Wall
Southern Steps
Farewell Dinner
Day 10 • February 1
Midnight 1:00 AM Departure from TLV
Itinerary is subject to change