Serving Israel & the Church from Jerusalem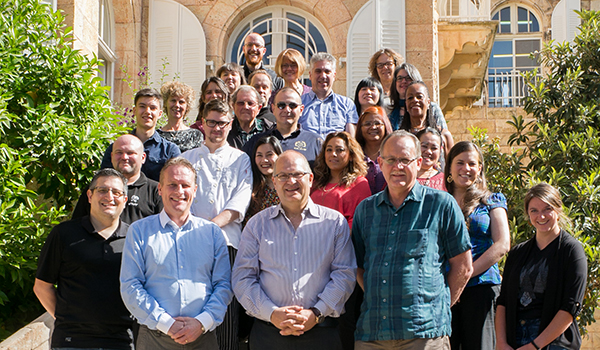 Originating from more than a dozen different nations and speaking as many languages, ICEJ staff members represent a varied cross-section of educational, family and cultural backgrounds. All are united, however, with a single purpose to see the Kingdom of God manifest in the world in these days, and to follow the biblical injunction of Isaiah 40 to comfort God's people Israel.
Key Leaders:
Dr. Jürgen Bühler, President
Dr. Jürgen Bühler is an ordained minister and trained physicist who serves as President of the International Christian Embassy Jerusalem. After graduating from Ulm University with a degree in physics, Jürgen moved to Israel in 1994. Following a five-year research project at the Weizmann Institute of Science in Rehovot, he obtained his doctorate in chemistry.
Jürgen joined the staff of the International Christian Embassy Jerusalem in 1999 and served from 2001 to 2011 as National Director for ICEJ-Germany. He has been a member of the ICEJ's Board of Trustees for eight years and served as the ministry's International Director for five years.
In October 2011, the board of the International Christian Embassy asked Jürgen to serve as Executive Director. He is a licensed minister with the German Pentecostal Federation (BFP), and his unique scriptural insights into issues relating to Israel, the Church and the nations have placed him in great demand as a speaker all over the world.
In addition to his other responsibilities, Juergen has remained an active member of the King of Kings Assembly in Jerusalem, and has served on the congregation's board from 1994 to 2010.
Jürgen and his wife, Vesna, live in Jerusalem and have three young sons and a daughter.
---
Rev. Mojmir Kallus, Vice President – International Affairs
Dynamic Church Leader and Activist from Czech Republic Joins the ICEJ
We are pleased to welcome Rev. Mojmir Kallus to the ICEJ leadership team in Jerusalem, where he will serve as the new Vice President for International Affairs.
Mojmir has been the national director of ICEJ-Czech Republic since he founded the branch in 1994, and in recent years, has served as a member of the ICEJ's international Board of Trustees. Mojmir has a background of great dedication to faith in Christ even during times of Communist oppression, and brings many valuable skills to his new position.
Mojmir was born in 1962 into a nominal Christian family in Czechoslovakia when it was still under Soviet domination. In 1983, while studying mathematics at Charles University in Prague he accepted Jesus as Lord and Savior in an evangelical church. He completed his math degree in 1985 but was soon called into ministry. He first served as a lay minister in the Czech Brethren church and later became a full-time assistant pastor. In the years after the fall of the Iron Curtain, the fellowship grew to be the largest congregation in the country, with about 1,000 members.
In the post-Communist period, many well-known evangelists were visiting the country and Mojmir often served as interpreter at their rallies. Thus, he had the privilege to assist such respected ministers of the Gospel as Billy Graham and Reinhard Bonnke. In 1998, he planted a new church associated with the Vineyard movement, while also holding a secular job as a freelance translator and interpreter. Soon, Mojmir started working as an official translator for the Czech government, accompanying the Prime Minister and other cabinet ministers on their travels around the world.
Mojmir became aware of the Christian Embassy in 1990, and made his first trip to Israel in 1992 to attend the Feast of Tabernacles. Two years later, he was appointed to head the new Czech Branch, our first in a former Communist country.
Over the years since, Mojmir has become one of the ICEJ's most resourceful and effective national directors. In one innovative project, he managed to secure Czech and EU government funding for the Czech branch to teach Holocaust education in public schools. He has championed the fight against anti-Semitism and pushed for bans on neo-Nazi groups in Eastern Europe.
Mojmir has leveraged his professional contacts as an official government translator into successful lobbying efforts for Israel in the Czech parliament and cabinet, including the parliament's recent decision to recognise Jerusalem as the capital of Israel. He also has taken the lead in launching several new ICEJ branches in Eastern Europe, giving him valuable experience as he moves into opening new branches in other regions of the globe. Meanwhile, Mojmir has continued his pastoral role for many Czech Christians who greatly respect his grasp of biblical Hebrew. For many years, he has led a Friday night Bible study of the weekly Torah portion.
Mojmir will move to Jerusalem this summer to take up his new position, and will be accompanied by his wife, Lucie, and their 12 year-old daughter, Matylda.
---
Rev. David Parsons, Vice President – Senior International Spokesman
David R. Parsons, an attorney, writer and Middle East specialist, currently serves as ICEJ Vice President – Senior International Spokesman with the International Christian Embassy Jerusalem, former executive producer of the Front Page Jerusalem radio program and former contributing Christian editor of The Jerusalem Post Christian Edition
Based in Jerusalem, Parsons is responsible for the Christian Embassy's public relations and media contacts with the Israeli and foreign press corps. He also writes and edits for various ICEJ publications on an array of historic, strategic, political and religious subjects, and was formerly editor of their daily ICEJ News Service.
Recently, Parsons was the contributing Christian editor for the Jerusalem Post Christian Edition, a monthly magazine then published in partnership between The Jerusalem Post and the ICEJ. He also co-hosted the Front Page Jerusalem radio program, the premier Christian radio talk show out of Israel, now being produced by the ICEJ.
Parsons earned a BA in History (1981) and a Juris Doctorate degree (1986) from Wake Forest University and entered the legal profession. From 1991-1995, he served as General Counsel of the Christians' Israel Public Action Campaign, the only Christian organization registered with the U.S. Congress to lobby for Israel. In this role, he assisted in drafting laws and supporting legal memoranda, and testified before Congress on behalf of strong U.S.-Israel relations and related foreign policy issues.
Parsons began serving with the Christian Embassy in 1995 as Coordinator of the Third International Christian Zionist Congress. Since assuming the position of media spokesmen for the ICEJ in 1997, he has conducted interviews with print and broadcast journalists from around the world, including numerous television and radio appearances. His opinion articles and other writings also have been published in newspapers and journals worldwide.
---
Rev. Malcolm Hedding, International Spokesman
Malcolm Hedding has a profound ability to teach and impart truth concerning God's heart for the nation and people of Israel. He is an astute theologian and one of today's most articulate speakers on the scriptural basis for Christian support of Israel and the Jewish people worldwide.
Malcolm is a credentialed minister with the Assemblies of God of Southern Africa, and holds a Bachelor's degree in theology, as well as two special theological diplomas. He was involved in church planting for more than 25 years before moving to Jerusalem to head the ministry of the ICEJ. Throughout his pastoral career, he has boldly proclaimed God's love toward and covenant with the land and people of Israel and was a vocal opponent of South Africa's apartheid regime.
Between 1986 and 1989, Malcolm served the Lord in Jerusalem and was an integral part of the pastoral team of the Jerusalem Christian Assembly, now known as the "King of Kings Assembly." During the same time, he functioned as the Chaplain for the ICEJ's international headquarters in Jerusalem.
Upon his return to South Africa in 1989, he planted the Olive Tree Assembly of God in Durban but continued to be involved with the ICEJ as a speaker at the annual Christian celebration of the Feast of Tabernacles in Jerusalem – an event which annually draws upwards of 7,000 pilgrims from more than 100 nations for a week of teaching and worship in the heart of the Israeli capital.
In 2000, the Board of Directors of the International Christian Embassy Jerusalem unanimously chose Malcolm Hedding to serve as the ICEJ Executive Director in Jerusalem. For over a decade, his clarity of vision and strong leadership ability were an enormous blessing to this worldwide ministry. Malcolm travelled extensively, preaching and teaching in churches across the globe, and gaining a unique perspective on the body of Christ throughout the earth.
In July, 2011, Malcolm ended his ten year term as the ICEJ's top Executive Director but has continued to serve the ministry as International Spokesman and as a member of its International Board of Trustees.
Malcolm and his wife Cheryl now live in Murfreesboro Tennessee, where he also serves as an Associate Minister of World Outreach Church.
They have three children and five grandchildren.