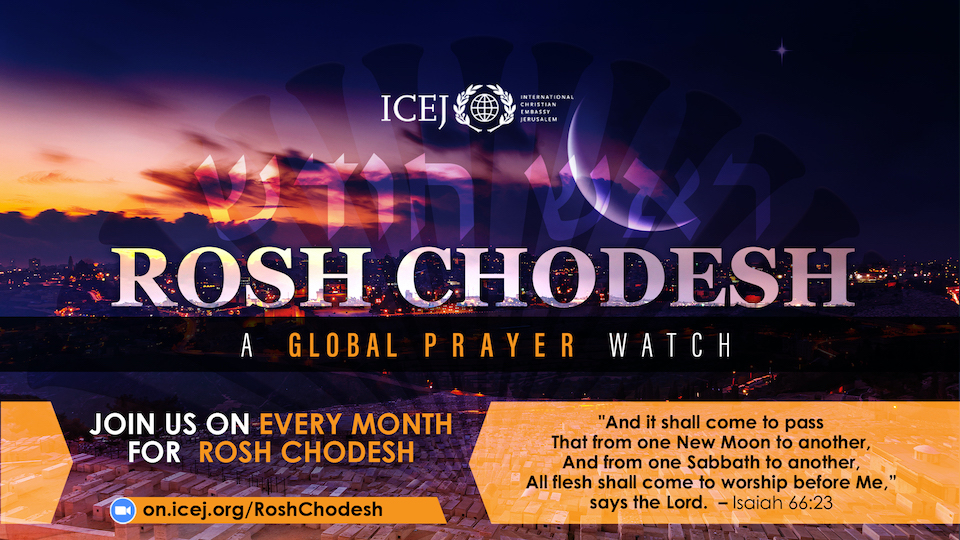 Our Rosh Chodesh Prayer Wave is Now Going all Month!
Based on the success our monthly Global Prayer Gatherings and the global demand for more prayer, we began a second monthly meeting based on the Jewish tradition of welcoming the new month (Rosh Chodesh) in prayer—this month's meeting will span nearly the entire month of May!
This festival of Rosh Chodesh was given to the Jewish people at Mt Sinai. Special sacrifices were to be offered on to mark the beginning of the new month (Numbers 28: 11-15). It also became a time when the Israelites would consult the Hebrew prophets (2 Kings 4:23). In addition, this joyous day featured the blast of a trumpet blown on the pinnacle of the Temple in Jerusalem to announce the arrival of the new month.
In a similar manner, ICEJ will be 'blowing the trumpet' from Jerusalem to call for a special day of prayer and seeking the Lord at the start of each new month.
Upcoming Rosh Chodesh Prayer Waves
May 2022
North American Time Slots:
Wednesday, May 11, 2022 – 3:00pm – 4:00pm (ET)
Wednesday, May 18, 2022 – 3:00pm- 4:00pm (ET)
Wednesday, May 25, 2022 – 3:00pm – 4:00pm (ET)
---
Prayer-Wave Schedule
** Times listed will be for Israel Standard Time – Not USA**
To convert to USA times minus 7 hours for ET, minus 8 hours for CT, minus 9 hours for MT, and minus 10 hours for PT.
VIEW SCHEDULE