ICEJ Senior Spokesman David Parsons hosted a meeting with Bar-Ilan Prof. Eytan Gilboa an expert on US-Israel relations to explore the ins and outs of what was to be expected from our president's first trip abroad to Israel and the Middle East. Both our host and guest offered tremendous insights on Iran, the PA, and the Abrahamic Accords.
Recorded: Thursday, July 14th
---
I welcome you to join us for other informative webinars featuring global leaders speaking on topics specifically geared for Israel-minded Christians join us each Thursday. 
Recent topics have included:
Is Israel Winning It's Shadow War with Iran
Paul the Jewish Apostle
The Church and the Kingdom of God- Pentecost/Shavuot – Part 2
The Birth of the Church – Pentecost/Shavuot – Part 1
Jerusalem Day
Turf War Over the Temple Mount
The Global Reach of Christian Zionism
Israel's Rebirth as a Nation – The Global Impact: A Yom Ha'Atzmaut Special
The Power of Resurrection
The Passover Connection: Pesach and Passion Week
The Importance of the Negev Summit
First Hand Accounts of Rescuing Holocaust Survivors from Ukraine
Impact of the Ukraine Conflict on Israel
Ukraine and the Message of Purim
Update on Rescue of Ukrainian Jews
Update and Prophetic Thoughts on Ukraine
The Continuing Impact of the Abraham Accords
A Short History of Christian Zionism
Update from the North
The Newer Testament
Israel and the Challenges of Delegitimization
The Newer Testament
These webinars take place on Zoom: on.icej.org/ICEJWebinar.
We hope you can join us.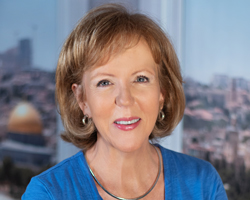 For Zion's sake,
Susan Michael
USA Director