One of Israel's modern-day miracles
Global Aliyah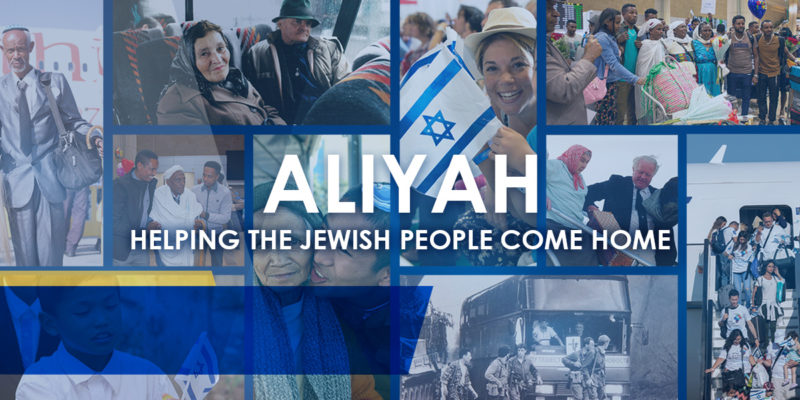 Since our founding in September 1980, the International Christian Embassy Jerusalem has assisted more than 170,000 Jews to make Aliyah and bring back to Israel. That represents more than 10 percent of the Jews who made the journey home to Israel in the past four decades. They are coming from the north, south, east, and west—just as the Bible promises.
The ICEJ has engaged in a wide variety of Aliyah efforts, working closely with the Jewish Agency for Israel and other partners to help with the historic Jewish return. In addition, the Christian Embassy also has provided generous assistance toward absorption projects which have helped tens of thousands of new Jewish immigrants settle into their new homes and integrate into Israeli society.
In Isaiah 49:22, the Lord says: "Behold, I will lift My hand in an oath to the nations, and set up My standard for the peoples; they shall bring your sons in their arms, and your daughters shall be carried on their shoulders." So we are invited by God to play a key prophetic role in the great Ingathering of Israel in our day. Please join us by supporting the ICEJ's Aliyah efforts!
BE A PART OF THIS MODERN-DAY MIRACLE! Send your most generous gift today and participate in this prophetic fulfillment!
Donate
Current Appeals
Ukrainian Aliyah
Thousands of Ukrainian Jews are facing an uncertain future as Russia invades their country. They need urgent help to evacuate and make it home to Israel.
Help Ukrainian Jews
Bnei Menashe Aliyah
An urgent effort is now underway to bring home over 500 members of the Bnei Menashe community from the northeast corner of India. Tragically, India leads the world by far in the daily number of deaths and new infections, with the country now accounting for well over 30% of all COVID cases worldwide, and its healthcare system is being overwhelmed beyond capacity.
Help Bnei Menashe Jews
Ethiopian Aliyah
In November of 2015, the Israeli government made the decision to bring home those Jews remaining in Ethiopia. Our help is needed to gradually and steadily help them move to Israel and also to adapt to their new culture once they arrive.
Help Ethiopian Jews
French Aliyah
The Jewish Agency has asked the Christian Embassy to assist with funding for the huge influx of French Jews expected to come home to Israel due to the recent and ongoing acts of terrorism in France.
Help French Jews
Chinese Aliyah
The Kaifeng are Jewish/Israelite exiles from Persia who had worked their way along the ancient Silk Road, all the way to Kaifeng, China. There are still some 500 Chinese Jews left in the area, and many are now interested in making Aliyah.
Help Chinese Jews
Global Aliyah
Since 1980 the ICEJ has worked to see Jews from around the world find their way home to Israel in fulfillment of biblical prophecy. Today, we are active in helping Jews make Aliyah from all over the globe and are as motivated as ever to partner with the Lord in this amazing work. You can be a part of it too!
Help Them Come Home!