ICEJ Restoring Hope to Women in Need
By: Laurina Driesse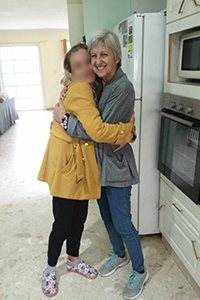 A little haven in the south of Israel is providing a safe place for abused, traumatized, and homeless Israeli women, thanks to help from the ICEJ.
Situated in Beersheva, this sanctuary shelters Israeli women from all walks of life, each with a unique story. Israeli social services or anti-violence organizations, detox facilities, friends, or family refer them to the shelter.
The women who come to this shelter do not often qualify for any existing social program; thus, the State cannot provide for them. This includes, for example, victims of abuse who are not suffering psychiatric damage severe enough to be treated in a hospital or special hostel but are not mentally stable enough to cope with everyday life. They also take in women who do not qualify for a battered women's shelter if the abusive husband is imprisoned. Often, these women may not have a roof over their heads or any other means of survival. The situation is further complicated in cases where it involves new immigrants who do not have the support of nearby family and friends. In situations like these, this special shelter steps in.
"Our shelter is there to show God's love in action, provide a peaceful and comfortable atmosphere (not just housing), and surround them with people who truly care for them and are eager to become their supporting family," shares Tatyana, the shelter manager.
Dedicated staff works closely with social services for each woman, meeting weekly with a counseling committee to help the women solve their social and legal issues. They also prepare them for living independently.
Some women stay in the shelter for just a few days. Others remain for up to a year or more, depending on their circumstances.
The generosity of our donors allowed the ICEJ to be instrumental in establishing this shelter, which provides a place of safety and rest and mentors and encourages the women.
"These women arrive broken and unable to find their way on their own," explained Nicole Yoder, ICEJ Vice President for AID and Aliyah. "Due to the mentoring support and practical assistance they receive there, the women leave knowing that they are loved and that there is hope and a good future in store for them. We are honored to help provide them an opportunity to regroup and start afresh."
Anat* was a victim of sexual abuse with severe psychiatric problems. While in the shelter, she received help applying for a disability allowance and other benefits. After staying for a year, she moved to a hostel for people with similar conditions. Her mentor keeps in touch, and we are pleased to report that she is doing well and in contact with her family.
Here at the Christian Embassy, we deeply desire to see families in Israel strengthened, and thus we are thrilled to see lives being transformed and families reunited due to our support for this shelter. Recently, Jasmine,* a single mother who arrived with her baby, said her farewells after a stay of 18 months. It was not an easy journey, however. After being at the shelter for six months, social services agreed to return her oldest son to her from a foster home. Since leaving the shelter, Jasmine has found employment and moved into a rented apartment. More good news has followed, as social services is preparing to return her other two children to her too.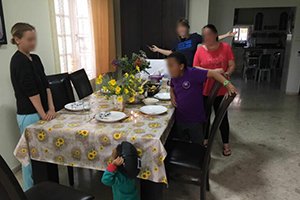 Among the newest arrivals to the shelter is 67-year-old Sarah,* who fled to Israel to escape a violent husband who threatened to kill her. The shelter became a haven for her by helping her get her legal status and social allowances in place, secure employment, and prepare for an independent life.
Meanwhile, Karen,* a new arrival in her 40s, had turned to alcohol to dull the pain of living with an abusive husband. Unfortunately, what was a tool to numb pain became an addiction. But we are excited to share that she completed the detox process quickly and miraculously is now clean. Karen enjoys attending the shelter's Shabbat dinners, and the shelter manager, Tatyana, is dedicating much time to teaching and guiding her.
Betty* (24) was born in Israel to Russian-immigrant parents. Her father, to whom she was very attached, abused drugs and alcohol. When Betty was 12 years old, her parents divorced, leaving her devastated. Although she had a knowledge of God, she struggled with identity issues and found it difficult to relate to friends. In the army, she found friends and a place to shine, where her natural leadership abilities gained her a responsible position in her unit. She dedicated herself fully to her job, which included many night shifts, to the neglect of her health. Soon the lack of sleep, constant stress, poor eating habits, and lack of nutrition took its toll.
When Betty completed her army service and entered civilian life, she began suffering severe headaches with pain that extended to her neck and the rest of her body. After multiple doctor's appointments, she was diagnosed with fibromyalgia. She tried different medicines, but nothing seemed to help her until someone suggested she try medical cannabis. This relieved the pain, but the drug also clouded her thinking and deteriorated her emotional state. She soon fell into the company of friends who smoked cannabis recreationally and negatively influenced her.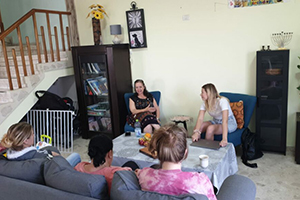 After Betty found her way to the shelter, she could finally break free from using cannabis and other psychiatric medications that she had once used to treat the fibromyalgia. Today, Betty has restored her relationship with God and is no longer suffering from depression. With a new lease on life, she is learning to care for herself by eating healthy and exercising regularly. She said, "I want to keep fighting for my life!" This change was possible because of the assistance she received at the shelter.
Your generous support has made a positive impact not only in Betty's life but in the lives of other Israeli women at the shelter. Thank you for restoring hope to women who are suffering and in crisis.
*Names have been changed to protect identity.
---
To support this and other similar projects make a donation today to ICEJ AID.