The Haifa Home Buzzes with Joyful Activity
—by Yudit Setz
Joy and happiness flooded the hearts of residents at the ICEJ's Haifa Home for Holocaust Survivors around the celebratory festival of Sukkot when they received international visitors bearing beautiful gifts and treasured conversations.
An Unexpected Visit from Slovakia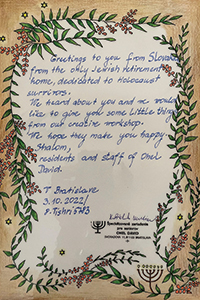 Martin and Yulia Herbert from Slovakia visited the Haifa Home just before the Feast of Tabernacles started in Israel. They came with their daughter and brought gifts and messages of love from the only Jewish retirement home dedicated to Holocaust Survivors in Slovakia.
"We heard about you, and we would like to give you some little things from our creative workshop. We hope they make you happy," read a beautifully decorated card from the residents and staff of Ohel David in Bratislava, the capital of Slovakia.
Indeed, their visit brought such joy to our residents. They admired the handiwork of the residents of the Ohel David community, the creatively painted bags, and other hand-crafted items made by residents of the Slovakian home, many of whom are over 90 years old. Our own Fanny S., who can be found daily in our art room, immediately went to her home to give Martin and Yulia some socks she had knitted herself and then showed them all her artwork in her apartment.
Sukkot, the Feast of Joy
A beautifully decorated sukkah was built outside the Haifa Home, and residents delighted to sit in it while enjoying each other's company and fulfilling the commandment of Leviticus 23:42–43 to "dwell" in the sukkah for the week of the Feast.
Visitors from the ICEJ Feast
After so long of not being able to host groups and visitors at the Home, we were privileged to welcome a German group that attended this year's Feast of Tabernacles, as well as different donors who were in Israel and wanted to see the Haifa Home with their own eyes.
After visiting, Ann from the United Kingdom wrote: "I just want to thank you so much that I was able to visit the Home for Holocaust Survivors yesterday. Thank you for giving us so much of your time. It really was very special, and it has impacted me very deeply. May the Lord continue to bless and uphold you richly as you minister to these dear ones so close to His heart."
Tree of Life project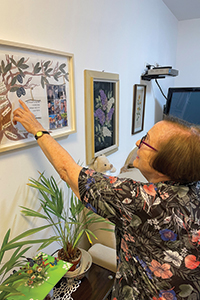 Our ICEJ nurse, Christine, had the brilliant idea of doing a project with the residents that would emphasize thankfulness and the good times our residents have experienced in their lives. "There is joy, which comes from a joyful heart. But how can a broken heart and a bitter soul feel joy again?" wondered Christine. "One way is to remember the good things in life, and gratefulness can make the heart smile again."
Christine wanted to help residents remember the courage, hope, and strength they had to start life over again after all the suffering they endured.
"Through the project, I was able to understand our residents better and build deep relationships. I learned a lot from their stories about courage, love, and strength, and came to see in them as people who were fighting to find the way back to life after much suffering," shared Christine.
Naomi, one resident who participated in the "Tree of Life" project, was touched to tears when she tried to explain what this project had done to her. Proudly, she has started to tell the story of her "Tree of Life" to every visitor who comes and shares all the things that she is so thankful for.
Introducing New Residents
Sixteen new residents from Ukraine have found their way to our Haifa Home. Two of our latest arrivals are Alexander and Irina from Mariupol, in Ukraine.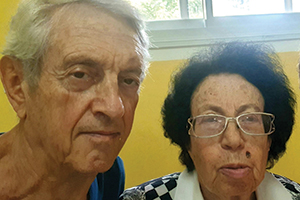 Alexander was born in Mariupol and had to flee in 1941 with his family when Nazi Germany invaded Ukraine. They ended up in Armenia, and he still remembers it as a time of fear, hunger, and lack. From the fall of 1941 until 1944, the Nazis killed an estimated 1.5 million Ukrainian Jews, and over 800,000 were displaced to the East.
They eventually returned to Mariupol, where Alexander became an engineer and married Irina, a pediatrician. Together they have a daughter.
Though now elderly, they were still active when Russia invaded Ukraine in February. They lived next to the now famous Azovstal steel plant in Mariupol, and soon their life became a nightmare of bombardments, hunger, and lack of the basic necessities needed for life. Their lives were often spared when bombs fell nearby and destroyed windows and other parts of their home. One day they were told to get their bags ready, and they would be picked up within 15 minutes to flee Mariupol. Irina still finds it difficult to talk about all the hardships they suffered.
"This was the only dress I was able to bring with me," said Irina, pointing to the outfit she was wearing. They arrived in Israel in June this year, along with their daughter, and in September, they moved into the Haifa Home.
"People have been very kind to us," expressed Alexander with a smile. "We received everything we need. What surprised me the most about Israel is that they are building everywhere, and the country is blooming. I look forward to learning new things and hope we still can have some good years here in Israel."
Reflections of a German Volunteer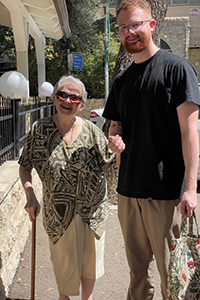 Josh, who has been part of our Haifa Home team for eight months, recently shared his experience working at the Haifa Home. "In the Haifa Home, I do whatever is needed," said Josh. "I'm good with technology, so I help the residents with their TVs and computers. I also clean apartments and the common areas. Sometimes I take care of the gardens. I take and edit pictures for publications and write for the ICEJ AID updates. I manage the letters and packages donors from around the world send to the residents.
"But my favorite activity is just sitting down with the residents and talking to them. None of the work I did before I came here compares to what I'm doing right now caring for these precious people who lost family in the most brutal ways and went through so much pain in their life," he continued. "We have people here who had to live in the woods for years when they were children, scavenging for food, and as a result, were malnourished. Some people saw most of their family murdered in cold blood.
"Then there are second-generation Holocaust Survivors working here, putting in all their heart every day. They're well into their 60s and 70s but still going strong, jumping at every request the residents have, and always trying to make it work somehow.
"We [also] have Muslims working closely together with Jews and Christians, proving that coexistence not only works but enables flourishing relationships," added Josh.
Prison service workers also volunteer at the Home—some of whom have committed serious crimes but have chosen to turn their life around. "If you watch some of them, the way they handle the residents is so gentle and kind, you wouldn't believe what they have done in the past," Josh explained.
"On Yom HaShoah (Holocaust Remembrance Day), one of the residents told me that I made that day at least a little bit more bearable for her. To be with [residents] on that day, to hug them and share some of their suffering, was such a privilege, knowing that my great grandfathers contributed to the Nazi regime. It was a sorrowful day, and I teared up many times, but I also felt immense gratitude to experience this. I still feel gratitude every day when I come to work because just from a human perspective, it's the most special place I've ever seen," concluded Josh.
---
Support Haifa Home
You can be the hands and feet that give love and comfort to those who have suffered so much.