In Memoriam Mordechai Lieber (1932 – 2022)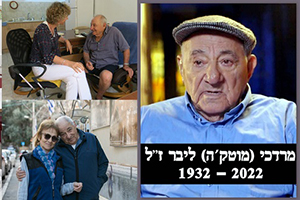 On the October 29th, our dear resident Mordechai (Motke) Lieber, husband of Esti Lieber, passed away quite suddenly at the age of 90.

Mordechai moved into the Haifa Home exactly 10 years ago. The Holocaust was a deep wound in his heart and life and made him the man he was. Born in Poland, as a child of 9, he experienced life in Ghetto's, saw a lot of death, and had to endure things we cannot even imagine. Whenever he would tell his story and recall the last words of his mother that saved his life: "Mottel, try to flee. You might succeed and tell the world what is happening here," he would be overcome with emotion and tears. He never really knew what happened to his family and was the only one who survived.

Later he married Esti and they got 3 children, many grandchildren and great-grandchildren. Mordechai was among those who helped to build up this Land, he fought in her wars and was fearless. He lived for his family and loved cats. He will be dearly missed!
Help support our home for Holocaust Survivors.