Bibi's Back
By: David Parsons, ICEJ VP & Senior International Spokesman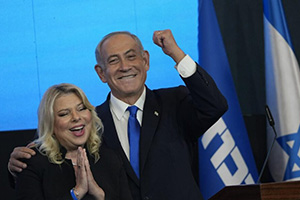 According to all the pollsters, this week's elections in Israel were supposed to be another close nail-biter. Instead, it appears Benjamin Netanyahu – already Israel's longest-serving prime minister – has a surprisingly easy path to forming a right-of-center government with a comfortable margin of at least 65 Knesset seats.
No doubt, most Israelis share a sense of relief that the political impasse which forced the country into five election campaigns in just the past 43 months has been broken. And many also are pleased that a strong and proven leader in Netanyahu is poised to assume the reins of leadership once more. Indeed, it feels like a return to normalcy for Bibi to be back again in the official prime minister's residence on Balfour Street in Jerusalem.
In assessing the latest election results, it is first worth noting that the nation somehow remained safe and strong and prosperous over the past four years of political stalemate, even though it lacked a stable government with a clear mandate to rule. And we need to be grateful for God's hand of providence over Israel for that.
With the polls all showing another tight race again, the surprising results came about because several parties close to the electoral threshold to enter the Knesset failed to get over the hump, giving Netanyahu's camp a much wider margin of victory than expected.
On the Left, the failure of Meretz and one of the three main Arab parties (Balad) to reach the 3.25% minimum threshold meant at least eight Knesset seats had to be redistributed elsewhere, and they seem to have fallen mostly to the Right.
In the Center, Yair Lapid hoped to gain ground with voters by concluding the last-minute Israel-Lebanon Maritime Border Agreement, despite having no mandate to take such a risky, far-reaching decision as a caretaker prime minister. Although his Yesh Atid party fared well with 24 Knesset seats, the move probably was one of the main factors which motivated more people on the Right to go cast ballots this time, as voter turnout was the highest in over 20 years.
Benny Gantz and Gideon Sa'ar of the more centrist National Unity alliance never really landed any punches against Netanyahu or Lapid and ended up with a pedestrian 12 seats. They say they are headed to the Opposition with Lapid, although there may be a few breakaway MKs in their list that Netanyahu could persuade to join his coalition government.
On the Right, the country has been trending rightward for some time now, with some 62% of Israelis identifying themselves as right wing, according to a recent study by the Israel Democracy Institute. Factoring out the Arab sector, that means the Jewish vote went heavily towards the nationalist camp, perennially led by Netanyahu and his Likud party, which garnered 32 Knesset seats this round.
Netanyahu successfully sank Ayelet Shaked and the Jewish Home's chances by reminding all their voters that her faction had partnered with the "Muslim Brotherhood" by bringing Ra'am into the previous coalition. This meant that their 7 seats from the last Knesset went elsewhere on the Right.
The main beneficiary appears to have been the Religious Zionist alignment led by Bezalel Smotrich and Itamar Ben Gvir, which more than doubled its tally to 14 Knesset seats. For some time now, one of their strongest pitches is that Netanyahu has been weak in the face of outside pressure, especially from Washington, and a vote for them is a vote to hold Bibi's feet to the fire. It appears that many of the Naftali Bennett-Ayelet Shaked voters of recent elections bought the line and decided rather than boycotting Netanyahu it is better to hedge him in from within his own government.
With the ultra-Orthodox parties Shas and United Torah Judaism also faring better than expected, Netanyahu has more than enough "natural partners" on the Right to form a government within a few short weeks. But exactly where will he take the country now that he is back in power?
Bibi is the son of a noted Jewish historian, Benzion Netanyahu, and he too has a strong sense of history and particularly his place in the modern-day saga of Israel. He persisted in staying in the game over these five election cycles despite the tremendous pressures and distractions of the three criminal cases against him, which political rivals have relentlessly used to try to tarnish Netanyahu as a danger to Israeli democracy. But what drove him to press on?
Surely, he senses that his already unprecedented legacy is not yet complete; that he still has something notable to accomplish in shaping Israel's national destiny. Does he still have a role to play in delivering Israel from the looming Iranian nuclear threat? Has he returned to expand on the Abraham Accords by sealing an historic breakthrough with Saudi Arabia? After all, he has reportedly met with Saudi Crown Prince Mohammed bin Salman already. Or will he finally defang the threat of Palestinian terrorism and side-line their cause?
Only time will tell, but the more immediate question is how much will Netanyahu have to rely on the far-right parties in his pending coalition? Many at home and abroad are troubled by the intolerant views on the LGBT movement expressed by members of the Religious Zionist alignment. Perhaps more worrisome is that some may still hold Kahanist views – meaning they would want to forcefully transfer Arabs from the country. And Itamar Ben Gvir, in particular, is well known for staging provocative actions at known flash points like the Temple Mount and the tomb of Simon the Righteous in Sheikh Jarrah.
Netanyahu has responded that he will set the policies of the new government and thus these misgivings about his likely coalition partners are overblown. But Smotrich and Ben Gvir have already proven they can impact Netanyahu's decision-making. Despite his denials, there were persistent reports over recent years that Netanyahu himself once held talks with Ra'am leader Mansour Abbas about joining him in a coalition or at least supporting it from outside the government, and it was Smotrich and Ben Gvir who forced Bibi to abandon the effort.
No doubt, this election has brought to the fore the ironic situation Israel now finds itself in. At a time when the Jewish state is opening new doors of reconciliation and normalization with Arab countries across the region through the Abraham Accords, will it also be able to reconcile relations with its own Arab population? That would be an admirable goal for Netanyahu to add to his legacy, even though Ben Gvir is sure to be fighting him all along the way.