The Uncontainable God
By: Dr. Jürgen Bühler, ICEJ President
"The God who tabernacles with His people" is a theme that runs deep through the Word of God, and it reflects many of the spiritual truths that surround the Feast of Tabernacles.
Each year after the Feast of Tabernacles, whether on-site or online, people tell us they have felt the tangible presence of God. Some experience miracles, and others, the healing of relationships. God is very present wherever people join us for the Feast and indeed "tabernacles" (dwells) with His people around the world. God tabernacling with His people is a theme that runs deep through the Bible and reflects many of the spiritual truths surrounding the Feast of Tabernacles.
God Desires to Tabernacle with His People
From the beginning, God instructed Israel to build Him a tent to dwell in rather than a temple. And this was not because Israel did not know of any alternatives. On the contrary, Abraham came from one of the earliest civilizations in Ur of Chaldea that built massive stone structures for their gods. The best known is the Ziggurat of Ur, a manufactured "mountain of god" to worship the moon god. While living in Egypt, the nation of Israel saw the gigantic pyramids of Giza and prominent temples built for worshiping a legion of Egyptian gods that filled the whole land—some have even survived until today.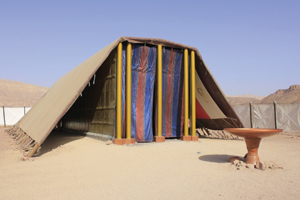 After the Lord led Israel out of Egypt, He instructed Moses to build Him a dwelling place, but it did not resemble these towering monuments of worship. Instead, it was a simple, portable tent structure, but not because of the bare necessity of travel.
Instead, Moses instructed his people to build what he saw in heaven: the tabernacle of God (Exodus 25:9, 40). And this heavenly reality has not changed since. Near the end of the Bible, the apostle John wrote: "After these things I looked, and behold, the temple of the tabernacle of the testimony in heaven was opened" (Revelation 15:5).
God Preferred a Tent over a Temple
King David was the first person to want to build a temple for the one true God. His desire to create a proper house of worship for God stemmed from his wish to appropriately worship the God he loved. David struggled with living in a beautiful palace in Jerusalem while the Creator of the world lived in a mere tent: "See now, I dwell in a house of cedar, but the ark of God dwells inside tent curtains" (2 Samuel 7:2). Nathan the prophet immediately affirmed David's desire to build a house for God and encouraged him to do all that was in his heart. I believe we all would have rejoiced in such plans.
But that night, God rebuked Nathan: "For I have not dwelt in a house since the time that I brought the children of Israel up from Egypt, even to this day, but have moved about in a tent and in a tabernacle" (2 Samuel 7:6).
The tent represented the nature and character of God, who is ever on the move. Consider Jesus' words to Nicodemus: "The wind blows where it wishes, and you hear the sound of it, but cannot tell where it comes from and where it goes. So is everyone who is born of the Spirit" (John 3:8). An aspect of our God is lively and continually moving—and so are His people.
An earthly temple was never God's intention—He desired to tabernacle with His people. God's presence was always ready to move, and to lose that was Moses' greatest concern. God's moving presence was Israel's guiding light, the sign that distinguished His people from all other peoples (Exodus 33:15f).
Even so, He allowed David's son, Solomon, to build a physical temple for him in Jerusalem and promised His eyes would always be "toward the place" (1 Kings 8:29). But God's presence could never be confined to a physical building.
The prophet Isaiah understood this when He wrote: "Thus says the LORD: 'Heaven is My throne, and earth is My footstool. Where is the house that you will build Me? And where is the place of My rest?'" (Isaiah 66:1). Isaiah knew that containing God in a building was impossible.
This thought separated the God of Israel from all other nations with their temples and shrines. The God of Israel is the Creator of heaven and earth and cannot be confined to a fixed place of worship. He is omnipresent. He can be encountered anywhere and often in the most unusual places. Richard Wurmbrand, a hero of the persecuted church in communist Romania, was imprisoned for years and severely tortured for his faith in Jesus. Yet he said that he experienced the glory of God—the manifest presence of Jesus—more in his prison cells than in any church buildings he visited after his release.
In the New Testament, the apostle Paul declared to the philosophers and scholars of his time in Athens: "God, who made the world and everything in it, since He is Lord of heaven and earth, does not dwell in temples made with hands. Nor is He worshiped with men's hands, as though He needed anything, since He gives to all life, breath, and all things" (Acts 17:24–25).
A Modern-Day Reminder
The coronavirus era was a reminder of this. Many church structures sat empty for a year or more. Here in Jerusalem, the Pais Arena, where we hold our Feast celebration every year, remained empty during Sukkot. Even so, God had other plans. After adjusting and moving to a completely online Feast, we heard testimony after testimony of how God flooded living rooms and meeting halls with His presence as people watched our Feast programs from afar.
For many, the COVID pandemic represents a recalibration of ministry. It was a season where God was reminding His people of a forgotten truth: He desires to tabernacle with His people not just in large halls in Jerusalem or megachurch buildings or mass crusades. Wherever two or three gather in His name, they can experience His indwelling glory.
The Tabernacle of God is with Men
When the prophet Ezekiel envisioned the future restored Israel, he perceived the climax of this restoration as God's mishkan—His tabernacle or dwelling place among His people (Ezekiel 37:26–28). Also, when the apostle John saw "a new heaven and a new earth," he heard a shout of amazement from heaven: "Behold, the tabernacle of God is with men, and He will dwell with them, and they shall be His people. God Himself will be with them and be their God" (Revelation 21:3).
God's future for mankind is not us being in a heavenly abode, a glorious temple; rather, God is coming down to a new heaven and new earth to tabernacle with men.
His dwelling with men is not defined by some ornate exterior but by an upright attitude of the heart. In Isaiah 66 God questions where man could build a house for Him on earth since heaven is His throne and earth His footstool. He continues with this surprising thought: "But on this one will I look: On him who is poor and of a contrite spirit, and who trembles at My word" (Isaiah 66:2; see also Isaiah 57:15).
Isaiah 66:2 tells us certain qualities of the human heart attract the presence and attention of God: humility before Him and utmost respect for His Word. It echoes the heart attitudes lauded by Jesus in the Sermon of the Mount: the poor in spirit, those who mourn, the meek, the merciful, and the pure of heart. Jesus calls them "blessed" because God takes notice and looks to dwell with such.
The Feast of Tabernacles – an Annual Reminder
The Feast of Tabernacles is a time for Israel to remember her tabernacle journey through the desert. When Israel arrived in the promised land, God commanded them to "dwell in booths for seven days. All who are native Israelites shall dwell in booths, that your generations may know that I made the children of Israel dwell in booths when I brought them out of the land of Egypt: I am the LORD your God" (Leviticus 23:42–43).
The Feast also is a reminder of man's fleeting nature. Paul relates to this in his second letter to the Corinthians: "For we know that if our earthly house, this tent, is destroyed, we have a building from God, a house not made with hands, eternal in the heavens. For in this we groan, earnestly desiring to be clothed with our habitation which is from heaven" (2 Corinthians 5:1–2).
Here Paul refers to our bodies as being a tabernacle, a sukkah. Our earthly bodies are temporary forms that a far greater abode will replace one day. He also admits that in this tent of our body, we sometimes groan. Even though we are wonderfully made (Psalm 139:14), these bodies are still fragile, often weak, and prone to sin, which is why Paul shouts in despair: "Who will deliver me from this body of death?" (Romans 7:24).
We Are the Temple of the Holy Spirit
The amazing truth is that this same frail tabernacle of our human body can become the very dwelling place of God, the temple of the Holy Spirit.
When Jesus was in Jerusalem during Sukkot, he made a statement that surely reminded many of the future temple envisioned in Ezekiel 47, when the prophet saw it become a spring of life-giving, healing water. Jesus said: "He who believes in Me, as the Scripture has said, out of his heart will flow rivers of living water" (John 7:38).
What an amazing reality that is! When believers become a sanctuary for the indwelling glory and presence of the Lord, streams of living water will flow and bless the lives of others around us. Just as Moses prayed, this mobile presence we carry wherever we go is what sets us apart from the world. It makes us a light that shines in the darkness.
As we once again welcome believers from around the world to join us live in the land for the Feast of Tabernacles, we rejoice in knowing God will be tabernacling among His people—not just here in the city that carries His name but also around the world. Lives will be impacted by the refreshing waters of the Holy Spirit.
I pray you all will experience His manifest presence wherever you live. "Behold, the tabernacle of God is with men!"