ICEJ Provides Urgent Dental Care for Ukrainian Jewish Immigrants
By: Chris Chambers

Thousands of Jews have recently escaped the war in Ukraine and immigrated to Israel, many arriving with few possessions. The ICEJ is helping them get settled in their new life in Israel in many ways, such as providing them with urgent dental care. We recently met with two Ukrainian Jewish immigrants and heard their heroic stories.
Saving Katia's Leg—and Smile
Katia (31) arrived in Israel from Ukraine in March. Before the war, she was a sales manager in a factory and volunteered her spare time to help less fortunate families.
Not only was her home destroyed in the invasion, but she was also shot in her left leg, leaving her bleeding profusely and in constant pain from shrapnel wounds to other parts of her body, including her mouth. A good Samaritan finally stretched her across the back of their car and drove to a hospital in Moldova for eight hours over dangerous roads. There she received the harsh news that her leg had to be amputated due to their lack of medical expertise.
But Jewish and Christian volunteers helped arrange a rescue flight to Israel, so she decided to wait on the surgery. After arriving at Ben Gurion Airport, she was rushed to an Israeli hospital and successfully treated. Katia was especially delighted when doctors said they could save her leg.
"This is a miracle!" she told us.
Since arriving in Israel, Katia has been alone and somewhat in shock. Fortunately, a Christian nurse befriended her and helped her through the deep depression that marked her recovery. However, Katia faced yet another pressing need—dental treatments. The bomb blasts left her with root canal problems, a significant mouth infection, and no front teeth. Even so, upon learning the ICEJ was going to help fund necessary dental procedures, she smiled with thanks. Eventually, she will receive a brace for her leg and a bridge for new front teeth. Soon she will begin to study Hebrew and start rehab to learn to walk again.
Katia knew from her teen years she was Jewish and could make Aliyah but never gave it serious thought. Now she believes God has a reason for bringing her to Israel, and she looks forward to when she can help others. "I have been given so much support from Christians and want to say a very big 'thank you,' including to the ICEJ for this dental care," she said.
Dental Help for a Mother and Son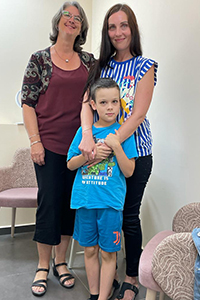 Oksana and her two boys, ages 15 and 6, recently arrived from Kyiv. Like so many other Ukrainian Jews, Russia's invasion split their family. Oksana quit her job, left her husband behind, and came to Israel with the boys, one suitcase, and little money. She decided to leave Ukraine because her youngest son, Liev, has asthma and struggled to breathe while stuck for days in underground shelters.
Oksana first escaped to Moldova and then Romania, where she applied for Aliyah, and soon boarded a flight to Israel with her sons. Since arriving, Oksana appreciates the safety and better standard of living. "Here, people care," she said. "And I love [Israel's] nature; it's beautiful. I love Israel with all my heart. I never want to leave."
While looking for a dentist for her son, Liev, Oksana discovered she, too, needed urgent dental care. A dentist checked her mouth and found significant damage across four teeth. Still struggling to make ends meet, she sees our assistance with her dental needs as a priceless gift. "Thank you so much for your help," she said tearfully. "This is such a beautiful day."
Our Chance to Help
The ICEJ is committed to helping Jewish immigrants as they make their way home to Israel and begin their lives anew here. Your generosity is making a difference for new arrivals like Katia and Oksana and their families. Please continue to support our Aliyah and integration efforts.