Rescue Flight from South Africa Sponsored by ICEJ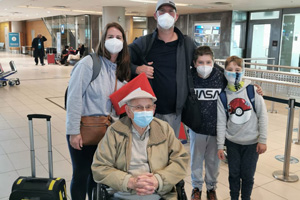 A rescue flight from South Africa was sponsored by the ICEJ on Thursday (12/16/21). 65 South African Jews were allowed to make Aliyah to Israel even amid the tight travel restrictions brought on by Covid. The flight tickets were funded by the ICEJ's South Africa branch. This marked our second rescue flight Aliyah flight for South African Jews this year. The first flight was in July when a group of 87 immigrants immigrated in the wake of nationwide riots and looting in South Africa.
This latest flight caps an outstanding year for the ICEJ's Aliyah and Absorption efforts. We have assisted nearly 4,000 new Jewish immigrants from over 20 countries worldwide in moving to Israel. In addition we have sponsored Aliyah flights for over 1,500 olim (newcomers) from all around the world. These figures represent about 13% of the estimated 27,000 Jews who immigrated to Israel this year, and it also means that the ICEJ helped on average about 10 Jews per day move to Israel in 2021.
---
Help us prepare for the next group of Jewish people who want to come home to Israel and need our help.