ICEJ-USA Director Susan Michael Awarded Honorary Doctorate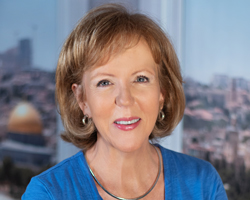 ICEJ-USA Director, Susan McElroy Michael, was awarded an honorary Doctor of Laws degree by Piedmont International University in Winston-Salem, North Carolina on May 4, 2018. The degree was conferred at the 2018 graduation ceremony on the campus of the university.
Dr. Charles Pettit, the president of Piedmont International University, shared that "Dr. Michael was awarded this honorary degree for her outstanding national and international accomplishments and because we believed she would represent us well as an example of the global impact God has called us to have for the cause of Christ at Piedmont as we develop academic initiatives and global partnerships."
"Susan is an exceptional individual who represents our university's values and educational training in her ministry," said Dr. Byron Edens, Vice President of Piedmont International University. "She is a brilliant speaker and shares in a dynamic way the conservative theology concerning Israel that we teach at Piedmont."
Michael's earned degrees include a Bachelor of Arts in Theology from Oral Roberts University and a Master of Arts in Judeo-Christian Studies from the Institute of Holy Land Studies, now known as the Jerusalem University College, in Jerusalem.
"It was the privilege of studying the Bible in its geographic and cultural setting in Israel that made all of the difference for me. There I was surrounded by proof of the accuracy of the Scriptures and that produced a passion for making that knowledge and experience available to as many people as possible," explained Michael.
As a founding staff member and a current Trustee of the International Christian Embassy Jerusalem, Michael has helped to pioneer what has grown into a global movement of Christian support for Israel made up of hundreds of millions of Evangelical Christians worldwide. She has also pioneered Jewish-Evangelical relations over the last 25 years through extensive work with Israeli and American Jewish leaders in Washington D.C. and across the country.
She developed ground-breaking educational programs and tools for churches and individuals on the issues of the biblical significance of Israel, the history of the Jewish people, Jewish-Christian relations, Christian anti-Semitism, Christian support for Israel, Islam, and Middle Eastern Affairs. Michael built the US Branch of the ICEJ into a Scripturally-sound, balanced, and reputable ministry, evidenced in its leadership of one of the strongest networks of Evangelical leaders in America – the American Christian Leaders for Israel (ACLI).
Founded in 1945, Piedmont International University is an established provider of quality, Bible-centered higher education for effective lifetime ministry. It has grown to over 1,000 students per year and strives to be an internationally recognized leader in innovative, Bible-centered higher education for effective ministry in a constantly changing world.