ICEJ Webinar Series
Shavuot - The Feast of Pentecost
Watch this week's biblical and prophetic teaching on "Shavuot: The Feast of Pentecost." Hosted by ICEJ Vice President & Senior Spokesman David Parsons, special guest ICEJ International Speaker, Malcolm Hedding gives an insightful look at biblical Feast.
---
I welcome you to join us for other informative webinars featuring global leaders speaking on topics specifically geared for Israel-minded Christians join us each Thursday. 
Recent topics have included:
Updates from the Nations
From Jerusalem to the Ends of the Earth
Did Israel Win the Latest Rocket War?
Israel at 75: A Miracle Against The Tide of History
Celebrating Israel at 75
Terror and Rockets at Passover
The Iran-Saudi deal and it's Impact on Israel
Israel's Divide Over Judicial Reforms, Part Two
Israel's Divide Over Judicial Reforms, Part One
Lessons From Purim
One Year of Urgent Ukrainian Aliyah
Israel to the Rescue: The Relief Mission to Turkey
How Can We Fight Antisemitism Together?
Best of Envision Speakers 2023
Does Israel Need Judicial Reforms?
Security Challenges of the New Israeli Government
Messianic Motifs in the Life of Joseph
The Incoming Israeli Government
Why Christmas on December 25th?
Chaye Sarah – The Life of Abraham Part 3
UN Voting on Israel
Vayera – The Life of Abraham Part 2
Lech Lecha – The Life of Abraham Part 1
The Results of the Israeli Elections
Why We Celebrate the Feast of Tabernacles
The Significance of Yom Kippur
The Significance of Rosh Hashana
The Significance of Rosh Chodesh
Fighting Modern Antisemitism
These webinars take place on Zoom: on.icej.org/ICEJWebinar.
We hope you can join us.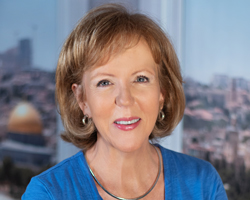 For Zion's sake,
Susan Michael
USA Director