Celebrate Passover with us!
Passover Program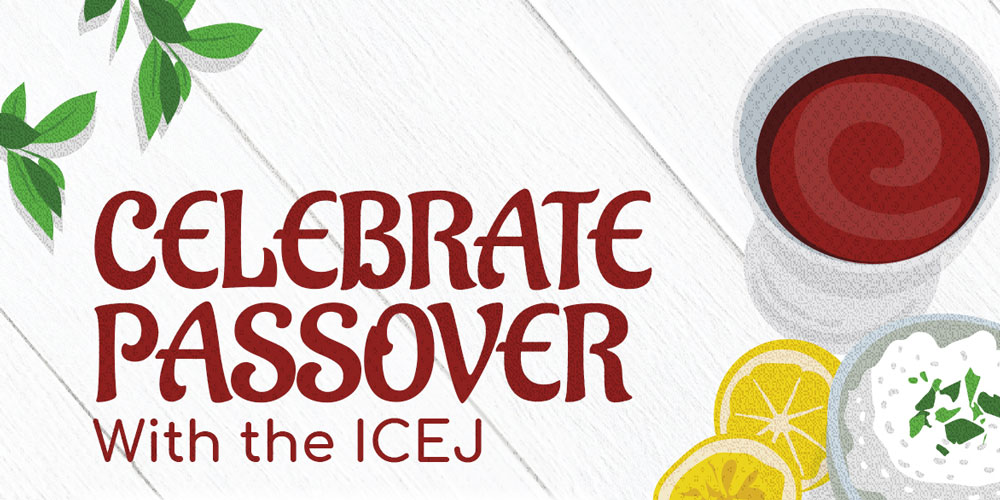 About the ICEJ
The International Christian Embassy Jerusalem was established in 1980 in recognition of the biblical significance of all of Jerusalem and its unique connection with the Jewish people. Today, it represents millions of Christians, churches, and denominations to the nation and people of Israel. We recognize in the restoration of the State of Israel God's faithfulness to keep His ancient covenant with the Jewish people.
Our goal is to stand with Israel in support and friendship, equip and teach the worldwide church regarding God's purposes with Israel, be an active voice of reconciliation between Jews, Christians, and Arabs, and support the churches and congregations in the Holy Land. From its head offices in Jerusalem, the ICEJ reaches out to more than 170 countries worldwide, with branch offices in over 90 nations.
Our vision is to reach every segment of Israel's society with a Christian testimony of comfort and love that represents the support of denominations, churches, and believers from every nation on Earth. For over 40 years, the ICEJ has stood by Israel, showing our comfort, love, and support in various ways, both in the Land and around the world. We administer aid projects, engage in advocacy for Israel, and assist in Aliyah to the Jewish homeland.
Learn more about the extensive, ongoing work and witness of the ICEJ by helping us fund our core activities in fulfilling our mandate to support Israel, educate the church, and fight antisemitism.
Donations allow us to maintain funding for emergency projects and embark on new initiatives to support Israel in these critical days. For more information, go to: https://icejusa.org/projects/.
Thank you for partnering with us in our vision to comfort and bless the Jewish people (Isaiah 40:1–2).
The US Branch of the ICEJ is a registered 501(c)(3) non-profit and all US donations are tax deductible to the fullest extent of the law. We are a member of the Evangelical Council for Financial Accountability (ECFA).
Contact Us
International Christian Embassy Jerusalem – USA, Inc.
P.O. Box 332974 – Murfreesboro, TN 37133-2974
Tel: (615) 895-9830
www.icejusa.org
How Can We Serve You?
Let the ICEJ serve you and your church the following ways:
Come Experience IsraelThe US Branch of the International Christian Embassy Jerusalem (ICEJ) is here to help you experience Israel through our various Holy Land tours tailor-made for churches, young adults, pastors/leaders, and families, as well as our annual Feast of Tabernacles tour. As a non-denominational Christian ministry headquartered in Jerusalem for over 40 years, we have expertise in Israel—both biblical and modern day—that will bring the Bible to life before your eyes and deepen your faith and relationship with God. Contact our tours ministry team by email.
Seminars on IsraelDo you want to learn more about Israel? We offer special DVD-driven small group studies like Discerning the Times and Biblical Zionism. One of our staff members can also come help teach a short study on why Christians should support Israel at your small group or church. Contact us by email to make an appointment today.
Global Prayer InitiativesWe invite you and your church to join the ICEJ global movement of prayer for Israel and the nations by using our monthly prayer points whenever you pray corporately or individually. Join us in prayer every Wednesday for our Global Prayer Gatherings and monthly as intercession resounds around the globe on Rosh Chodesh. For more information go to https://icejusa.org/isaiah-62-prayer/.
Since our founding in September 1980, the International Christian Embassy Jerusalem has assisted more than 160,000 Jews to make Aliyah and bring back to Israel. That represents more than 10 percent of the Jews who made the journey home to Israel in the past four decades. They are coming from the north, south, east, and west—just as the Bible promises.
The ICEJ has engaged in a wide variety of Aliyah efforts, working closely with the Jewish Agency for Israel and other partners to help with the historic Jewish return. In addition, the Christian Embassy also has provided generous assistance toward absorption projects which have helped tens of thousands of new Jewish immigrants settle into their new homes and integrate into Israeli society.
In Isaiah 49:22, the Lord says: "Behold, I will lift My hand in an oath to the nations, and set up My standard for the peoples; they shall bring your sons in their arms, and your daughters shall be carried on their shoulders." So we are invited by God to play a key prophetic role in the great Ingathering of Israel in our day. Please join us by supporting the ICEJ's Aliyah efforts!
BE A PART OF THIS MODERN-DAY MIRACLE! Send your most generous gift today and participate in this prophetic fulfillment!
Donate