ICEJ Helping to Mend Broken Israeli Families
by: Laurina Driesse, ICEJ Staff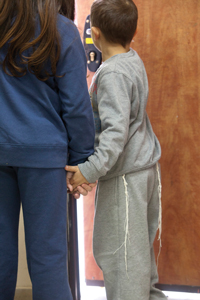 The ICEJ is committed to helping mend broken Israeli families. This initiative seeks to mend shattered families, encourage youngsters who have grown up in difficult circumstances, and find direction for the unemployed and unskilled in need of a fresh start. We want to extend a helping hand on behalf of Christians worldwide who care about Israelis in need.
Take for example, Michal*, a cheerful young Israeli girl  who enjoys her childhood and makes friends easily. However, her journey to reach this happy state has been tough. At only four years old, little Michal was diagnosed with cancer. Her mother, Tova*, bore the strain of frequent hospital visits while her father found solace in drinking. The problems in her parent's marriage eventually led to divorce.
The divorce left Tova seriously shaken, and she viewed Michal's cancer diagnosis as the root cause of her husband's drinking and their failed marriage. As Michal improved, Tova began to blame her for her father leaving and consistently fed her this tale. Michal felt so guilty and tried to do everything to please her mother. She tried to behave like an adult, took on cleaning the house, and cared for her little brother. But nothing seemed to win back her mother's affection. There were no hugs from Tova, who saved them for other children.
Over time, Tova and Michal started therapy sessions. But when it came time for group interaction between parent and child, Tova avoided being alone with her own daughter. After several years, an Israeli social worker finally helped Tova deal with the trauma of her divorce. As she healed, she understood it was not Michal's fault. The same worker also helped Michal restore her childhood, regain self-confidence, and receive her mother's love again.
The coronavirus crisis significantly increased domestic violence and abuse in Israeli families already under economic stress, and it also increased rates of depression. In addition, many Israelis are still recovering from this year's rocket war with Hamas in Gaza.
For Genet*, it felt like her world was crumbling. She struggled with her parental role and giving basic instructions to her children, leaving them to do as they pleased. A social worker convinced Genet to attend weekly therapy sessions with other mothers, but she never revealed much about her home problems.
After two years, she finally informed her social worker about her abusive and violent husband. Genet was extremely fearful and ashamed and had even asked her children to keep what was happening at home a secret. But she finally found the courage to break the silence, and together with her social worker, she filed a complaint with the police. This was extremely difficult for an Ethiopian Jewish woman and a considerable risk to her and her children.
After several months, Genet's divorce was final, and she found a new job that allowed her to provide for her children and pay their rent.
Today, Genet is still attending therapy and has blossomed into a stronger woman who can stand up for herself and show authority over her children.
As the ICEJ comes alongside these Israeli social workers, our assistance extends to therapeutic centers like the ones Tova, Michal, and Genet have turned to for help. These centers often deal with children exposed to neglect, physical and verbal abuse, sexual violence, and other traumas.
The children arrive at the centers after school, where they play and enjoy a hot meal together. They also receive help with their homework and professional counseling from child psychologists and therapists.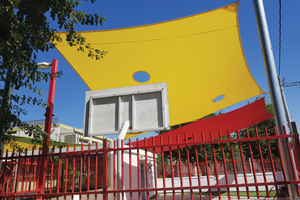 The excellent staff engages in every aspect of the families' lives, from daily routines to dialoguing with schools. Other services are also offered, such as finding benefits for families, marriage counseling, ending domestic violence, and even house calls. And thanks to Christian donors from Finland, the ICEJ recently provided a shade cover from the hot sun for a playground outside one therapeutic center.
(*Names have been changed to protect privacy.)
---
Help us continue this critical work of mending and strengthening Israeli families by donating to our ICEJ AID fund.