NRB Renews Commitment to Fight Antisemitism
By: Daryl Hedding, ICEJ USA Deputy Director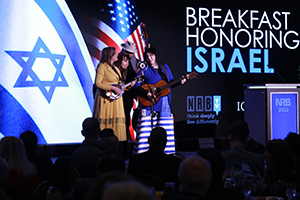 If the turnout for the annual Israel breakfast at the NRB (National Religious Broadcasters) convention is an indicator of support for the Jewish state among Evangelical broadcasters, then we have good reason to be encouraged. And encouraged we all were at this year's event that focused on combatting antisemitism—not to simply bemoan the incomprehensible global increase in the hatred of Jews but to provoke real action in response among the Evangelical community.
The crowd gave a thunderous round of applause when it was announced that the NRB board of directors had adopted the International Holocaust Remembrance Alliance's (IHRA) working definition of anti-Semitism and called for all of its members to fight antisemitism front and center. "Fighting antisemitism is a key issue for believers, and it's very important that our understanding of the issue reflects cultural realities," said NRB CEO Troy A. Miller. "An accurate and contemporary definition of anti-Semitism helps us to recognize and combat this form of hatred wherever it emerges."
A joint statement to combat antisemitism was also issued at the Israel breakfast by NRB TV, the International Christian Embassy Jerusalem and the Combat Antisemitism Movement, all of which co-sponsored the event. The statement called on all Christians in the United States to urge their local, state and federal officials to adopt the IHRA definition, and "let your voice be heard in support of Israel and against the growing hatred of anti-Semitism." The statement also called on those in Christian media to educate their audiences about contemporary forms of anti-Semitism and the need to adopt the IHRA working definition of anti-Semitism.
Keynote speaker Johnnie Moore stirred the early risers to awaken in stern defense of the Jewish people and the State of Israel. He implored them to draw strength and pride from the remarkable history of Christian Zionism that he identified as crucial to pass on to our children if we want to ensure the next generation continues to light the flame of righteousness among the gentiles.
Held in Nashville, TN, the morning would not have been complete without some bluegrass Southern gospel music courtesy of The Isaacs. From the singing of the US national anthem opening the breakfast to Hava Nagila at its close—and harmonies from heaven in worshipful songs in between—The Isaacs let their love for Jesus, America, and Israel flow through their music with the purest of joy.
The ICEJ is proud to partner with the NRB and to have sponsored the annual Israel breakfast along with NRB TV and Combat Antisemitism Movement.