Notes on the Negev Summit
By: David R. Parsons, ICEJ Vice President and Senior Spokesman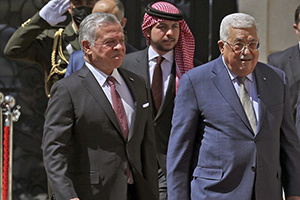 Israeli officials have taken part in some remarkable meetings with regional Arab leaders in recent years due to the diplomatic breakthrough of the Abraham Accords. But the 'Negev Summit' at the start of this week was uniquely historic and significant for several reasons.
The Place
For starters, the location of the gathering in Sde Boker was laden with symbolism. This is the small, isolated kibbutz in the southern Negev desert where legendary Zionist figure David Ben-Gurion retired to late in life as a personal affirmation of his vision that developing the Negev was the future of Israel. Israel's founding premier knew that Arab hostility towards the new Jewish state was too strong at the time, so he pursued a strategy of forging alliances with 'periphery' nations, such as Turkey and Iran. But he also hoped that Israeli innovation could reclaim the arid regions of the Negev in a way which would eventually draw the Arab nations and peoples to their side. The Negev Summit was a realization and even vindication of that vision, which was inspired by the biblical promise that the desert would one day "blossom as the rose." (Isaiah 35:1)
The place of the summit also was significant in that the Negev today is still something of a frontier land, where local Bedouin tribes are challenging Israeli authorities for control of the region. There have been tensions and clashes with police in recent years, as many Bedouin gangs are engaged in drug trafficking, stealing Jewish livestock, and other criminal activities. So, for Arab leaders to attend a high-profile summit in the Negev was an important signal to those seeking to undermine Israel's authority in this region.
The Participants
The Negev Summit also was significant for those who took part in it. This included the foreign ministers of Bahrain, Egypt, Morocco and the United Arab Emirates. Bahrain and the UAE are rich Arab oil states who were among the original signatories to the Abraham Accords with Israel. They are forward-looking and aspire to be a hub of the emerging global economy.
Meanwhile, Morocco is more traditionalist but sees great benefits in expanding its ties with Israel. And Morocco also holds the Guardian of Jerusalem portfolio within the Organization of Islamic Cooperation, so its participation carried added weight for Israel in the long struggle over holy sites in Jerusalem.
In addition, Egypt's attendance was another key step in its warm embrace of the Abraham Accords. Of course, Cairo has had a peace treaty with Israel since 1979, but it was always deemed a cold peace with little true acceptance and people-to-people contact. Yet that has now started to change under President Abdel-Fattah al-Sisi, who earlier channeled the spirit of the Abraham Accords when he graciously greeted Israel's Energy Minister Karine Elharrar in her wheelchair while hosting a recent regional energy conference. The Egyptian warming to Israel also has been fueled by the IDF's close security and intelligence cooperation in Cairo's long-standing battle with Islamist militias operating in the Sinai.
Collectively, these Sunni Arab states also were acknowledging the reality that Israel has a special relationship with America and a unique 'pull' in Washington, which they seek to leverage for their own good.
Finally, the presence of US Secretary of State Antony Blinken showed that the Biden administration clearly realizes the positive regional changes wrought by the Abraham Accords. Until now, they gave begrudging credit to the predecessor Trump administration for birthing the Accords, but this signals the Biden team is finally ready to build on the momentum it created.
It also is significant to note who was not there – Jordan and the Palestinians. As Secretary Blinken constantly reminded the parties, the Abraham Accords cannot "substitute" for direct engagement between Israel and the Palestinians. But Palestinian Authority leader Mahmoud Abbas remained in Ramallah, still stewing over the way these fellow Arab leaders have 'betrayed' his cause by pressing on with normalizing relations with Israel.
Jordan's absence also was widely noticed, as King Abdullah continues to shy away from the Abraham Accords, largely as a means of self-preservation due to the Palestinian majority residing within his kingdom. Instead, he visited Abbas in Ramallah on Monday. Nonetheless, there has been a steady stream of senior figures in the Bennett-Lapid government who have met with Abdullah over recent months in a bid to maintain Israel's unique relationship with Amman.
Lastly, Saudi Arabia also was not present at Sde Boker. But immediately after the Negev Summit, Secretary Blinken spoke with his Saudi counterpart to update him on developments. Riyadh is not quite ready to openly normalize relations with Israel, but signs of quiet cooperation are there. This includes Israeli commercial overflights of Saudi territory, as well as former prime minister Benjamin Netanyahu's reported 2020 secret meeting with Saudi Crown Prince Mohammed bin Salman, who recently referred to Israel a "potential ally."
The Purpose
The Negev Summit also was significant for the substance of what was discussed there. First of all, it is still a rare sight for Israeli and Arab leaders to just sit down and talk freely about the region's future. It was not just about security and trade, as many other topics were discussed.
But most importantly, Blinken faced a united front against reviving the Iran nuclear deal. Both Israel and the Sunni Arab states have felt somewhat abandoned by the Obama and now Biden administrations when it comes to the growing Iranian threat in the region. The irony here is that whenever Washington engages in appeasement of Iran, it only drives these Arab nations more and more into Israel's arms.
Sunni Arab rulers have seen an Israeli prime minister defy a sitting US president by addressing Congress about the dangers of a nuclear Iran. These Arab leaders also have been impressed at how Israel strikes back hard at Iran and its regional proxy militias, while the US only retaliates against Iranian strikes if they inflict casualties. They also have seen Israel's many successes in its 'shadow war' against Iranian arms shipments to Hizbullah via Syria, its targeting of Iranian drones, its cyber attacks against Tehran, and its covert operations inside Iran to expose, slow and even cripple its nuclear program.
These Arab states may not necessarily want to be directly involved in Israel's nuclear confrontation with Tehran. But some are already being hammered by drone and missile strikes launched by the Iranian-allied Houthi militia in Yemen, and Israel seems a lot more willing and able to help stem these attacks than a Washington giving greater priority to Arab states showing respect for human rights. So, one of the more concrete results of the Negev Summit, according to Israeli sources, is that the parties are now working on a regional air defense pact to better handle the missile and drone threat from Iran and its proxy militias.
The Pushback
Another indication of the significance of the Negev Summit is the current wave of lone wolf terror attacks in Israel, which appear to be mostly inspired by radical Sunni Arab militias like ISIS. A series of three major attacks in Beersheba, Hadera and Bnei Brak have claimed 11 lives in just over a week. Many have connected these attacks to the onset of Ramadan, but it appears to be more a case of anger that Sunni Arab leaders are normalizing relations with Israel.
The Dire Prospects
The Negev Summit also took place under the shadow of the war in Ukraine, and the glaring lessons of that conflict for this region were not lost on the parties. Watching the US and NATO opt to stay out of a direct war with Russia reminded America's longtime allies in the Middle East that they need to be prepared to defend themselves on their own as best as possible.
Until now, the Gulf Arab states have been concerned with Iran's ballistic missile and drone threat, but – unlike Israel – they have not necessarily seen the growing Iranian nuclear threat as directly aimed at them. But we have now seen the carnage and mayhem a crazed regime can inflict while operating under the umbrella of a credible nuclear threat. Vladimir Putin's bare mention of the nuclear option has kept American and NATO troops at bay and given Russian forces a lot more leeway to level Ukrainian cities. So, how much more damage and destruction could Iran do with its missiles and drones if it was just able to brandish a nuclear arsenal!