ICEJ Welcomes Ukrainian Jews with Gift Packages
By: Anastasiya Gooding, ICEJ Staff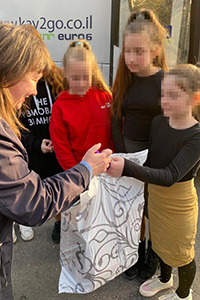 Last week, our ICEJ team visited the Nes Harim Field and Forest Education Center, a complex in the Judean foothills west of Jerusalem, where we delivered gift packages for some 90 children who arrived early in the war from a Ukrainian Jewish orphanage in the city of Zhitomir. They are either orphaned or only have a single parent, and were greeted at Ben-Gurion Airport by Prime Minister Naftali Bennett himself.
Pnina Zubarev, an ICEJ staff member originally from Ukraine, joined our AID team as they went to deliver gifts to the Ukrainian Jewish orphans.
"What a privilege it is for me to be able to participate in packing and handing out gifts to these Ukrainian children arriving in Israel" shared Pnina.
The ICEJ team first met with a group of teenagers, and then with the younger children.
"You know, it's a foreign country, it's foreign people and they don't know anyone here," remarked Pnina. "But as I started talking with them, suddenly they heard the language that they know without any accent and were so happy. The children went from being closed and distant, to being open, happy and willing to talk."
When it came time to distribute the gifts to the children, some even asked if they could hug the ICEJ staff.
"It seems that maybe the hug was also like a present for them because they are orphans, and they really need it", said Pnina.
The children also were amazed at the size of the toys and games given to them.
"I was overwhelmed as I watched the expressions of sadness turn to happiness and joy on the faces of the children as they received their gifts," expressed Pnina.
One little girl was pushing a stroller, with a stone and a piece of wood in it. When Pnina asked her why she had a stone and stick in her stroller, and not a doll, she replied: "My doll is at home where the war is!" So she was very excited when Pnina told her would receive a doll as a gift!
Each gift came with a beautiful ICEJ greeting card expressing words of comfort in the Ukrainian language stating: "We are so sorry for the tragic loss and unjust suffering which has come so suddenly to your lives. May this gift from Christians around the world be an encouragement and help to you as you establish your lives afresh here in Israel. May you flourish here and find new hope and a good future."
All the children learned that their gift was given to them with love from Christians around the world. They cheerfully responded by saying, "Toda Raba, ICEJ!" ("Thank you, ICEJ!")
In addition, the Christian Embassy has been providing aid packages to hundreds of other Ukrainian Jewish youths who have recently arrived in Israel, some ahead of their parents. These packages are stocked with the necessary items such as sheets, towels, toiletries, vouchers for clothing, household items and a beautiful card with a blessing in Ukrainian.
"It is really exciting to be able to welcome these new immigrants and support them by providing very basic and useful items that everyone needs", shared Nicole Yoder, ICEJ Vice President for AID and Aliyah. "Despite the heavy hearts and the worry that weighs on them, it is beautiful to see their smiles when they realize that friends around the world are thinking of them and have made this gift package especially for them. It also fills us with joy to be able to do something tangible to help them."
So far, the ICEJ has been able to provide some gift packages for 230 Ukrainian Jewish children and their families, and distributions are planned for hundreds more. With your support we can help many more of these new immigrant children and families in their hour of need!
Meanwhile, our ICEJ-Finland branch has just delivered two trucks of relief aid requested by the Chief Rabbi of Warsaw to help the local Jewish community care for scores of Ukrainian Jewish refugees who have taken shelter with them. The trucks were full of sleeping bags, warm clothing, items for babies, toiletries, air mattresses, medications, and food. It was their second delivery of such relief aid to the Warsaw Jewish community in recent weeks. Similar relief aid missions to Warsaw are being planned by ICEJ-Germany and ICEJ-Norway.
Please partner with us in these endeavors by giving your best gift today to help Ukrainian Jews uprooted by war as they seek a new life in the Land of Israel. The cost for a gift package for children is US $100, and US $350 for other welcome packages.
---
Let us unite in our efforts to bring comfort and love to these newly arriving Ukrainian Jews.