Restoring Hope to Vulnerable Single Mothers
by: Laurina Driesse
The ICEJ is trying to restore hope to vulnerable single mothers who are often pulling the weight meant to be shouldered by two parents. Unfortunately, 12.8% of families (about 170,000 in all) in Israel today are single-parent households, and a staggering 90% of these are headed by women with a lower-earning capacity than men. This means many single-parent families face a constant battle of living on or below the poverty line. Because of this the ICEJ is actively working to restore hope to vulnerable single mothers.
The coronavirus crisis has exposed just how vulnerable single mothers genuinely are, and practical assistance is not always available for them. In Hebrew it is said, "They fall between the chairs"—which is why we are focusing on strengthening these families.
Some started as young mothers with no opportunity to study and learn a profession. Often they lack support or a good family example, and many even need to overcome trauma or destructive family patterns. In many ways, they were still children themselves and thus need encouragement and guidance to raise their own children.
Some mothers made the gigantic leap of faith and moved from their home country to Israel, adjusting to a vastly different language and culture. The challenges of adjusting to a new setting, learning the language, finding employment, or deciding on a school for the children—all without a ready support system—adds a whole new stress level to single parenting.
At the ICEJ, we have been asking: How can we be a type of "extended" family for struggling young Israeli mothers and their children who need hope? The answer is by providing the basics, such as assistance toward career counseling and job training or sponsoring professional mentors who give the practical and emotional support that can build self-confidence.
Many mothers also require help with subsidized daycare, babysitters, after school activities, private tutors for the children, and other essentials—like basic home furnishings and repairs. Being ashamed of your living conditions only adds to the single mother's feelings of isolation and despair.
ICEJ donors recently enabled one such mother to have a brand-new kitchen. The before and after images are stunning, and now she and her children have their dignity restored.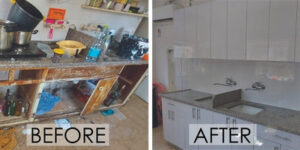 Can you imagine having to wash for years using water from a toilet tank? This is how an elderly grandmother, her single-parent daughter, and grandson had to bathe—they had no running water to shower. They diverted water from the toilet tank for four years and crouched in the bathtub to wash, which was extremely difficult for the grandmother to do. Your giving enabled a repair team to renovate the bathroom, restore the water connection, and install an easily accessible shower!
"In general, the women assisted are between the ages of 16 to 50," explains Nicole Yoder, ICEJ Vice President for AID and Aliyah. "Many come from abusive backgrounds with no support system. Others are simply on their own due to divorce or early widowhood. They may lack education or basic life skills, which makes entering the workforce extremely challenging. Learning to parent is tough. Many young parents do not know how to set healthy boundaries, and it's heartbreaking when the parent-child bond is not properly developed. If not dealt with, this can be the fertile source of a woundedness that gets passed on to the next generation."
*Alena is a widowed single mother with five children. She became exhausted while nursing her ill husband for many years, and then she was laid off work during Israel's strict coronavirus lockdowns over the past year. ICEJ is currently helping Alena improve her self-confidence and prepare for job interviews.
*Leah came looking for help as a broken, divorced woman who had endured physical violence and the trauma of witnessing one of her parents commit suicide in front of her. She was so desperate to provide food for her two children that she fell into prostitution for a time. By obtaining the help she needed, Leah has managed to lift herself up. Today she works as a graphic designer and tries to be a good role model for her children.
"These days of the coronavirus crisis are extremely difficult, and a personalized focus on the aid needed can be the turning point for women like Alena and Leah and many others," said Nicole. "They and their children can begin their journey of building a brighter future, and we want to be part of making it possible."
---
ICEJ AID is committed to restoring hope to these vulnerable and often broken single mothers. However, their needs vary, and assistance ranges from $1,500 to $3,500 per mother—though a gift in any amount is a blessing. Please join us in our efforts to strengthen Israeli families and help them find a brighter future. Your donation makes a significant impact on the lives of those who need it most.