Opportunities and Challenges Abound in 2022
By: Susan Michael, USA Director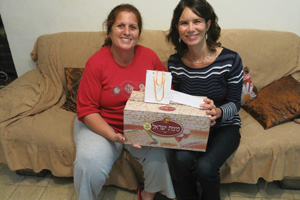 The last two years certainly had their share of difficulties, but we at the ICEJ are so grateful for the ways God blessed our ministry and allowed us to grow in size and impact. But, rather than looking at our accomplishments in 2021, I want to take a few moments here to look ahead to 2022—a year of opportunity. I believe the ministry of the ICEJ has never been as critical as it is now and will be in the coming years.
Blessing Israel
The last two years of shutdowns and lockouts did not hinder the calling or work of the ICEJ but enlarged it. Our staff operated as "boots on the ground," delivering emergency assistance to many people. ICEJ projects in Israel will continue to grow in 2022, but there is particular urgency in several areas: Aliyah is increasing as the global situation is causing many Jews to feel safer in Israel and the need for bomb shelters in northern Israel is critical—not to mention the many aging Holocaust Survivors who need our loving care.
Feast of Tabernacles
A silver lining to the coronavirus shutdowns is that the annual Feast of Tabernacles celebration went global! Last year we were pleasantly surprised to find that many families and churches had built succahs (booths) and hosted Feast watch parties. We anticipate this will increase, and satellite Feasts will take place all around the world—each connected to the Jerusalem celebration via streaming technology.
Global Expansion
From our Jerusalem headquarters, the ministry of the ICEJ reaches around the globe. We have a presence in over 90 countries, but we reach many more nations through our publications and online activities. We have experienced a boost in our work in Africa, Asia, and Latin America, where Evangelical Christianity is growing and interest in Israel is exploding. We are excited about the potential and are uniquely positioned to connect these thriving churches to Israel.
Teaching New Generations of Americans
Here at home in the United States, the view is slightly different. Evangelical Christianity has not just plateaued but is weakening as a movement. Churches are overwhelmed as society is becoming increasingly secular—even anti-Christian—and many are struggling to maintain biblical foundations in their congregations. One recent poll by Arizona Christian University's Cultural Research Center (CRC) found just 9% of self-identified American Christian adults hold a biblical worldview.
An integral part of the ICEJ's ministry has always included educating Christians with the biblical worldview that explains the significance of Israel and the Jewish people. We are developing new content in all formats to reach future generations looking to understand their Bible and what God is doing on earth today. These tools, built for individuals and churches, include podcasts, blogs, videos, books, and small group study series. We are also producing online courses for university students—our first course is being taught at South Florida Bible College and Seminary this semester!
Growing Antisemitism
One aspect of this education is to teach Christians how to recognize antisemitism and stand against it. I never thought I would see the day when so many Jews in America are encountering antisemitism. Many have said they refrain from wearing Jewish symbols to avoid drawing attention to their Jewish identity. As antisemitism is moving from the fringes and into mainstream America, Israel is quite concerned they will lose the support of the United States under future generations of politicians.
The ICEJ is educating Christian leaders about the Holocaust and the dangers of being silent when antisemitism raises its ugly head. We are first bringing awareness of the problem and then must train Christians how to stand against this evil.
A Nuclear Iran
As critical as combatting antisemitism is, it is not the number-one challenge Israel faces. Iran has been openly threatening to wipe Israel off the map while seeking to build nuclear weapons capable of doing so. Experts predict Iran is just weeks away from crossing the nuclear threshold, and when they do, this radical regime will be brazen and free to do what it wants in the region.
Their first step may not be a nuclear attack but to ignite a conventional war with Israel from Lebanon and Gaza. Therefore, we need to place as many bomb shelters as possible throughout the country. Shelters not only provide safety, but each one has a plaque attached, letting the community know it was provided by Christians who love them. This alone brings great peace of mind and hope.
2022—a Year of Opportunity
We all pray for easier times and the peace of Jerusalem. Until then, we will continue to take every opportunity to mobilize Christians to bless Israel and the Jewish people. We will be there for them no matter how difficult the coming days may be.
Through the ICEJ, you can be a voice of Christian love and comfort to the Jewish people amid these very concerning developments. You can educate new generations of Christians around the world with the truth of God's Word about the Jewish people. Israel and the ICEJ are counting on your partnership in 2022! There is much for us to do, and together we can have the greatest impact ever.
---
With your help we will be able to accomplish so much more. Please consider partnering with us in 2022.