Jewish Mother Follows In Her Sons' Footsteps To Israel
By Anastasiya Gooding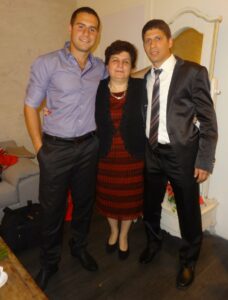 Since our inception in 1980, the International Christian Embassy Jerusalem has been active in bringing Jewish people back to the Promised Land, and in that time we have witnessed many amazing personal journeys of Jewish families making Aliyah to Israel. By sharing these unique stories, we hope to show the impact our joint endeavors are having on entire generations of Jews returning to their ancient homeland. Indeed, we are grateful to our faithful Christian friends around the world who are making it possible for the sons and daughters of Zion to come home.
Two Sundays ago, Irina Karasikova was among a group of 102 Jewish immigrants who arrived in Israel on a special Aliyah 'evacuation flight' from Kazakhstan sponsored by the Christian Embassy.
Irina first visited Israel back in 1996 and fell in love with the country. That trip deeply impacted the lives of her and her two sons, Mikhail and Eugene. It was her sons who proved to be the determined younger generation who first paved the way back home. Now, after 25 years of waiting, their mother has joined them in their true homeland.
Irina's parents moved to Alma-Ata – capital of the Kazakh republic – in 1953, after graduating from universities in Odessa. From her birth, Irina knew about her Jewish roots. "My family never hid the fact that we were Jewish," Irina noted. However, her first steps in learning about the history of her ancestors, and about Israel occurred in 1996 when she helped as a journalist to prepare the first issues of the Israeli newspaper Mabat for publication in Kazakhstan. Then her eldest son Mikhail took part in a Jewish children's camp where Irina came with a video team and filmed an interesting story that was broadcast on national TV.
In the same year, Irina visited Israel for the first time. She was sent there by the Jewish Agency for Israel to accompany a group of 150 children from Alma-Ata who were taking part in a special study program. "I fell in love with Israel when I first arrived in this wonderful country and saw tall palm trees on the way from the airport," Irina recalled.
Since that time, Irina's life and career have been closely linked to Aliyah work as a Jewish Agency representative in Kazakhstan.
"My eldest son Mikhail began participating in all youth activities of the Jewish Agency since 1997 and worked as a madrich at the Sunday School at the Israeli Embassy in Kazakhstan," said Irina. In 1999, at the age of 16, Mikhail went to study in Israel. Then he served three years in the Israeli Air Force, after which he entered the university in Ariel. He received his higher education as an electrical engineer. Now Mikhail and his wife and two daughters, four-year-old Liel and one-year-old Talya, live in Ariel.
The younger son Eugene followed in the footsteps of his older brother when he went to study in Israel at age 14. After finishing high school, Eugene went to serve as a soldier in the combat unit "Nahal", rising to a platoon commander and graduating from the officers' school. When Eugene was 25, he was promoted to major and served in the army for nine-and-a-half years in total. The army provided him with the opportunity to study and receive a bachelor's degree in political science. After his army service, he received a master's degree in business consulting. Now Eugene works as a project coordinator in a start-up company and lives in Tel Aviv.
Irina raised wonderful sons who became responsible, contributing citizens of Israel. Throughout her life, she has been helping many Jews to get acquainted with their homeland and to move there. Now, it was her turn to go home to live in the land of her ancestors.
"I had thoughts about repatriation to Israel for a long time, but now the time had come," Irina confided. "I want to be close to my sons and grandchildren, to help them and rejoice in their successes."
So she followed in her sons' footsteps to Israel. And just recently, her youngest granddaughter took her first steps, here in the Promised Land. Now, the Karasikova family will be able to share many more beautiful moments together in Israel.
This special Aliyah evacuation flight from Kazakhstan sponsored by the ICEJ helped Irina and dozens of other families reach Israel to start a new life near their families and fellow Jews. Let us continue to support Aliyah in order to make an impact in lives today and in the generations to come.