2022 Feast Review
Two Glorious Nights in the Galilee 
For the first time in over four decades of the Feast, the ICEJ took our Sukkot celebration to the Sea of Galilee. The beautiful setting of the Capernaum National Park provided the perfect backdrop for our standing-room-only gathering to spend the opening two nights of this year's Feast.
Over the two evenings, we received greetings from local Israeli pastors Daniel Yahav from Tiberias and Saleem Shalash from Nazareth, as well as a security briefing from IDF Major (Res.) Elliot Chodoff, while Apostle Renê Terra Nova from Brazil and Evangelist Manasa Kolivuso from Fiji delivered the main messages. In addition, an array of anointed worship leaders from Israel and abroad led us in times of praise and worship that echoed across the Sea of Galilee.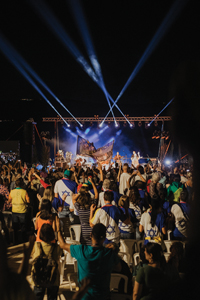 "This needs to go all over the world. The Holy Spirit was really present," said Bishop Festus Mulwanda from Zambia after his first taste of the Feast. "The worship band from Norway (Filadelfia Lovsang) carried the presence of the Lord, and I want to get them to Zambia."
The Nations Appear in Zion
After ascending to Jerusalem, Feast pilgrims gathered in the Pais Arena for the traditional Roll Call of the Nations, where each nation represented at the Feast presents itself before the Lord with their national flag and often in traditional costumes. As representatives from 86 nations paraded across the stage with colorful flags, the event was displayed on screens to recognize each country with pilgrims attending the Feast in-person and online.
Israeli Knesset member Sharren Haskel also delivered an official greeting to Feast pilgrims and thanked them for coming to Jerusalem: "The prophet Zechariah spoke of a future time when all the nations would come to Jerusalem to celebrate the holiday of Sukkot. Look around you now—we are the living proof of the truth of the Word of God," said MK Haskel.
"This gathering is an indication of what's going to happen when we stand before the throne of grace in heaven," exclaimed a pastor from Liberia. "To participate in this Feast, I see myself in the presence of God. And the Land of Israel is amazing. … We're walking in the Bible!"
The Jerusalem March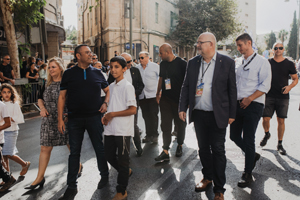 Feast pilgrims are always excited to take to the streets of Jerusalem to express their love for Israel in the popular Jerusalem March. The atmosphere was festive as many pilgrims adorned in national costumes interacted with crowds of Israelis watching along the parade route. Jerusalem Mayor Moshe Lion was so thrilled to see Christians visiting his city again after the global pandemic that he invited ICEJ President Jürgen Bühler to lead off the March with him. "I must tell you that we missed you these two years. We are very happy to host you," the mayor said.
Pastor Manasa Kolivuso from Fiji responded: "It was such a treat for me to meet all the Israelis today along the March route and tell them we support and pray for them. This is my first time to Israel, and we are already talking about chartering a whole flight from Fiji next year."
Communion in the Garden Tomb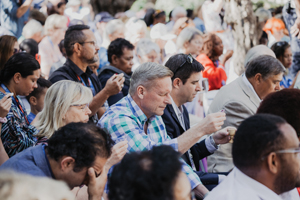 Another highlight for Feast pilgrims was sharing communion in the Garden Tomb with fellow Christians from around the world. This year, Pastor Andrew Brunson spoke powerfully on how his relationship with the Lord grew during his two years of suffering in a Turkish prison: "I discovered that there is an intimacy that only comes with testing, an intimacy that only comes with hardship and suffering."
Solidarity Visit to Gaza Border Region 
The week-long Feast concluded with a visit to the western Negev to show support for Israeli communities along the Gaza border living under the constant threat of rockets and arson balloons. Over 700 Christians from 50 nations took part in a solidarity rally held in the Sha'ar HaNegev region. Mayor Ofir Libshtein warmly welcomed the Christian visitors and thanked the ICEJ for helping "to make our lives safer … This is an amazing and wonderful place to live 95 percent of the time. But 5 percent of the time it's not easy to live here."
In addition to donating 140 portable bomb shelters and two dozen fire-fighting vehicles to the region over recent years, the ICEJ is now partnering with Keren Kayemeth Le'Israel (KKL/JNF) to plant protective hedges and reforest burned areas in the Gaza periphery.
As the solidarity rally ended, the ICEJ delegates released 1,000 blue and white balloons into the air as "prayers for peace" in the Gaza border region.
Feast in the Media 
This year's Feast 2022 received ample coverage in the Israeli, foreign, and Christian press. The fact that thousands of Christians were back in Israel for Sukkot after a two-year slump in tourism was certainly news worth reporting.
For example, two Iranian-born singers performing at the Feast were interviewed by several media outlets about their support for Israel and conversion to Christianity: "Our people, we love Israel," Peyman Motjtahedi, a worship leader from Texas, assured an Israeli reporter. "The brotherhood between the Jewish and Persian people is beautiful for us." He added that several Persian Jews shed tears when they saw him carrying the traditional Iranian flag in the Jerusalem March.
Several other articles featured former Chief Justice of South Africa Mogoeng Mogoeng, who received the ICEJ's annual Nehemiah Award for his courageous, principled stand for Israel. And American pastor Andrew Brunson, who spent two years in a Turkish prison, also spoke to several journalists on Israel-Turkey relations.
Feast Team Members Keep the Feast in Motion! 
The Feast of Tabernacles is a massive undertaking for our full-time staff in Jerusalem. To meet this challenge, many dedicated Christians faithfully come each year to volunteer their time at the Feast. This year, we had 106 Feast team members—35 served for the first time, and another 12 assisted from abroad with the online Feast. Each person sacrificed to serve others at the Feast. They worked tirelessly to ensure all areas of this week-long event ran smoothly: ushering, security, transport and registration, music, stage production, photography, logistics, and more. Every role was vital in ensuring the pilgrims enjoyed their Feast experience.
A Tribute to Elgonda Brunkhorst 
Finally, we want to pay special tribute to Elgonda Brunkhorst, a key organizer of the first Feast in 1980. Elgonda passed away earlier this year, but a few years ago, she shared with our staff the many challenges she faced putting together that first Feast. It was one long, amazing testimony of many answered prayers. She could not speak Hebrew, and this was before cell phones and email. She needed translators, carpenters, dancers, sewers, chairs, and sound equipment but had little money to work with. Nevertheless, the Lord directed her in incredible ways, and we honor Elgonda for helping set the tone of faith and self-sacrifice among those working behind-the-scenes to make the Feast a success every year.
Chief Justice Mogoeng Recieves Nehemiah Award 
Every year at the Feast, the Christian Embassy presents its annual Nehemiah Award to a Christian leader who has distinguished themself as a strong, committed supporter of Israel and the Jewish people. This year, the award was given to the recently retired Chief Justice of the Republic of South Africa, the Honorable Mogoeng Mogoeng.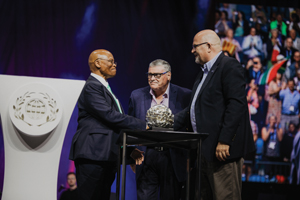 Chief Justice Mogoeng is a devout Christian and highly respected jurist across Africa. Over the past year, he took a bold public stand for Israel based on biblical principles and courageously refused to back down in the face of tremendous pressure and widespread vilification in South Africa and elsewhere. At the height of that stand-off, the ICEJ South Africa Branch spearheaded a public petition in support of Mogoeng, which was signed by over 150,000 fellow citizens.
After receiving the Nehemiah Award, Chief Justice Mogoeng described how he refused to surrender to a dark agenda that would rob South Africa of its national destiny to be a "blessing" to Israel in line with Scripture:
"I wish I had time to express appreciation for all those who supported me at the time when I was confronted by untold vitriol and persecution, but time simply does not permit," Mogoeng told the Feast gathering. "[I]t is the apparent need for self-preservation, or an attempt to avoid reputational damage, the love for position or power, fame or seemingly good … that has led many to deny Jesus Christ. But by God's grace, and with the prayers of the saints, I mustered the courage to say: 'No, I belong to Jesus.'
"A rejection of Jacob or Israel and his descendants is a rejection of God's promises for them. And it is also an attraction of the curse to you. … Take a careful look at all those who chose to curse instead of bless Israel and the children of Israel, and you be the judge whether you see blessings or curses instead."
Our Terrific Translators  
We also recognize the many translators who helped make it possible to offer the Feast messages in so many languages again this year, an extra challenge due to this being a "hybrid Feast" of both in-person and online pilgrims. It was technically impossible to provide translation by one team to both audiences at once; thus, we arranged two sets of teams working simultaneously. The whole language team had 52 members who made the Feast accessible in Spanish, French, Portuguese, Russian, Chinese, German, Finnish, Norwegian, Danish, Italian, Czech/Slovak, and Thai.
---
Join the ICEJ for this year's Feast of Tabernacles.