ICEJ Immersed in Urgent Wave of Ukrainian Aliyah
By: David Parsons, ICEJ VP and Senior Spokesman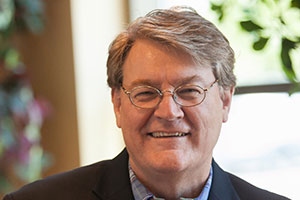 The International Christian Embassy Jerusalem is engaged in numerous efforts to help rescue Ukrainian Jews out of the conflict and bring them to safety in Israel. We currently are engaged at all stages of this emergency wave of Aliyah: From extracting elderly Holocaust survivors from their homes in cities under fire, to transporting Jewish families to safety and providing for their immediate needs, to flying them to Israel and helping them get settled in the Land.
Over the past month, over 6,000 Jewish immigrants have arrived in Israel due to this conflict. The majority of them have fled the fighting in Ukraine, while hundreds have left Russia and many more are expected due to the sharp economic downturn caused by Western sanctions. Another 7,000 Ukrainian Jews are presently waiting in Eastern Europe for Aliyah flights to Israel, while more Russian Jews are seeking a way out of a country that has started to close its borders.
The ICEJ is providing funds to the Jewish Agency For Israel to assist with the entire evacuation and Aliyah process for Ukrainian Jews, including the expenses of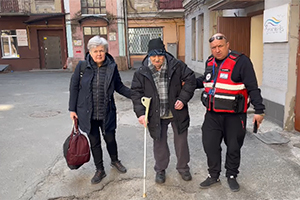 bus transport out of the war zone, temporary shelter in neighboring countries, any necessary medical attention, the flights to Israel, and the urgent integration needs of the new immigrants.
Since we welcomed the first flight of Ukrainian Jewish immigrants three weeks ago, the ICEJ has sponsored transport, housing and Aliyah flights for over 500 of these desperate war refugees coming to Israel. We expect to greet more of our sponsored flights of Ukrainian Jews next week. In addition, the Christian Embassy is assisting JAFI with the integration phase, as these new arrivals will stay for several months in hotels and municipal housing across Israel while they adjust to their new life in Israel.
Besides our support for JAFI's emergency Aliyah operations in Ukraine, the Christian Embassy and its regional representatives have launched a number of other efforts to help Ukrainian Jews reach Israel. Among these efforts are:
Delivering a ton of relief aid requested by the Chief Rabbi of Warsaw to help the local Jewish community care for scores of Ukrainian Jewish refugees who have taken shelter with them while awaiting flights to Israel.


Using our emergency call centers for Holocaust Survivors in Haifa and Jerusalem to help answer the flood of calls coming to the Jewish Agency's special hotline for Ukrainian and Russian Jews to inquire about making Aliyah. Several ICEJ staff members who speak the Ukrainian and Russian languages also have volunteered their time at the call center.


Delivering aid packages to hundreds of newly arrived Ukrainian Jews in their hotels and temporary housing. The aid baskets include sheets, towels, toiletries, vouchers for clothing and household items, food, and toys and games for the children. Some of the Jewish youths we are assisting with these aid packages arrived in Israel without their parents.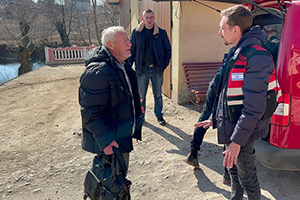 Besides these efforts, ICEJ also is working with an Israeli charitable partner on the ground in Ukraine to evacuate dozens of Holocaust survivors to safety, sponsor their flights to Israel, and assist them once they are here.
The team we are sponsoring has taken on a very dangerous mission, which has caught the attention of the Israeli and international media. They have made repeated journeys into some of the hardest-hit cities and regions in eastern Ukraine – such as Donetsk, Kharkiv, Dnipro, and Mariupol – to bring out elderly Holocaust Survivors to safety.
These survivors are in their 80s and 90s, and most are in wheelchairs or need walkers. Specially equipped vans and ambulances are often needed to pick up these disabled evacuees. Family members are usually there to help them say goodbye to homes they have lived in their whole lives. And from these cities under fire, it can take several days to reach Poland and Romania for the flights to Israel. Most are coming with some family, but for now it is limited to women and children, as the men between ages 18-to-60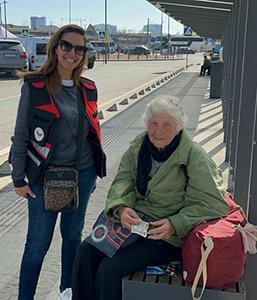 must stay behind to help defend the country. The hope is they will come later.
On Thursday, seven Holocaust survivors were collected from Kyiv and started on the way to Warsaw with some of their relatives. We will be tracking their journey over several days and look forward to welcoming them to Israel next week. Then comes the task of settling them into homes and care facilities where their special needs can be met. No doubt, several will be received into the ICEJ's unique Home for Holocaust survivors in Haifa.
This surge in Aliyah from Ukraine, Russia, and even Belarus is expected to continue over the coming months. The costs to evacuate Ukrainian Jews and then shelter and fly them to Israel is currently averaging about US $1000 per person.
So, please give your best gift today to help support our urgent efforts to evacuate Jews from danger in Ukraine and bring them home safely to Israel.
---
Please give your best gift today to help support our urgent efforts to evacuate Jews from danger in Ukraine and bring them home safely to Israel.