Knesset Christian Allies Caucus Re-launches
By: ICEJ Staff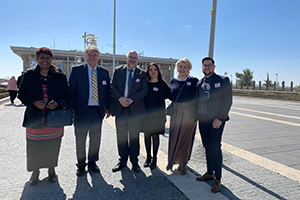 On Monday, February 28, 2022 the ICEJ was honored to attend the Knesset Christian Allies Caucus' (KCAC) re-launch event at the Knesset.
ICEJ President Dr. Jürgen Bühler spoke at the meeting and called the KCAC "one of the miracles of the State of Israel" for reaching out to Evangelical Christians directly from the government of the nation.
For the last 18 years, the ICEJ, one of the founding members, has worked with the KCAC to build strong and lasting relationships between Christian leaders and Israeli government leaders. The KCAC has grown to the largest caucus in the Knesset with members from across Israel's political spectrum. The ICEJ is privileged to work together with the KCAC in future Faith-based diplomacy efforts.