ICEJ Assisting with Rescue of Jews from War in Ukraine
By: David Parsons, ICEJ VP & Senior International Spokesman
Israel is planning to take in an initial wave of 3,000 Ukrainian Jews in coming weeks, and thousands more are expected to keep coming after that. 

Amid the immense tragedy unfolding in Ukraine right now, there are many inspiring examples of courage in the face of brutality, as well as valiant efforts to get civilians to safety in neighboring countries. One such effort now underway involves Israel and the Jewish Agency desperately working to bring out endangered Ukrainian Jews and send them on to Israel. The International Christian Embassy Jerusalem is helping fund these urgent rescue and Aliyah operations, and thanks to our many faithful Christian supporters worldwide we are rising to the challenge of this hour.
When Russian forces began invading Ukraine last Thursday, the Jewish Agency quickly set up a free hotline for Ukrainian Jews to request assistance with making Aliyah, and so far they have received calls from more than 5,000 Jews interested in immigrating to Israel. But with the war spreading to so many areas, and a mass exodus of civilians heading west towards safety, bringing these Jewish families out is proving difficult.
To meet the challenge, the Jewish Agency and Israeli embassies in the region have already set up six processing stations at Ukrainian border crossings with Poland, Moldova, Romania and Hungary, and officials are on the ground on both sides of these borders to help process those on their way to Israel. In fact, due to their long experience in the field, as well as the help of a nationwide alliance of local Christian volunteers, Israel is in a better position than probably any other nation now scrambling to assist their nationals and other refugees to leave the country.
Not only that, but there are reports that the Israeli rescue network is even helping citizens of Arab countries flee to safety, including Egyptian, Palestinian,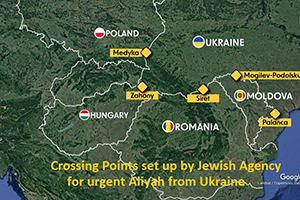 Lebanese and Syrian students fleeing the heavy fighting in eastern Ukraine.
For the Ukrainian Jewish evacuees, after crossing the border they will be temporarily housed in neighboring countries for several days or weeks, as necessary, and then flown to Israel, where hotels and absorption centers are being prepared to welcome them for their first months in the Land. This entire process will require funding from numerous sources and the ICEJ is committed to doing our part.
Thankfully, in just four short days since our urgent appeal went out last Friday, we have been able to collect enough funds to hand over an initial donation of NIS 1 million shekels (US$ 320,000) to the Jewish Agency to help with the rescue and Aliyah of Ukrainian Jews. The immediate response from Christians in so many nations has been amazing, and we deeply appreciate it!
Israel is planning to take in an initial wave of 3,000 Ukrainian Jews in coming weeks, and thousands more are expected to keep coming after that. Counting those who are Jewish and their close relatives, there are an estimated 200,000 people remaining in Ukraine who are eligible to make Aliyah.
The ICEJ already has a long and productive record of assisting Ukrainian Jews to make Aliyah, as we have helped nearly 50,000 Jews reach Israel from Ukraine since the Iron Curtain fell in 1989. But for those who remain, the need has never been greater to help bring them to safety in Israel. So, we say "thank you" to those who already have given to this urgent cause, and we urgently appeal to everyone to consider once more what you can do to help!
---
Make a difference in the life a Ukrainian Jew fleeing Russian agression.