ICEJ Supporting Pro-Life Efforts in Israel
By Laurina Driesse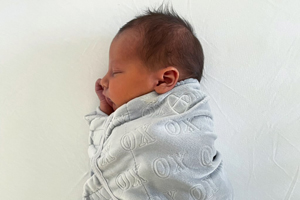 The sad truth is that in Israel today, abortions are common and even legal until birth. So many precious lives are being taken, and far too many women carry feelings of loss, guilt, and brokenness, which often torment them to their core.
Every year in Israel, there are about 170,000 live births but also approximately 40,000 abortions. Last year alone, the state paid for 18,000 abortions, regardless of the circumstances. Since 1948 more babies have been aborted in Israel than Jewish children who died in the Holocaust.
This heartbreaking reality spurs on the ICEJ to support pro-life efforts in Israel—and recently, ICEJ AID assistant Jannie Tolhoek spoke with Sandy Shoshani and Anat Brenner, both long-time advocates and directors of pro-life work in Israel.
Sandy explained why she is so passionate about pro-life work, where roughly one in every five babies is aborted.
"Nothing grieves the Spirit of God more than the shedding of innocent blood," Sandy said. "Only 50 percent of the abortions are single women, and 49 percent are married couples. It is mostly women between 20 and 35, a lot of divorcees, [and] a lot of married couples who feel they cannot afford another baby. Many abortions are done because of the mother's health—including her mental health. If she says that she is not sleeping well or is stressed and cannot cope, she can have an abortion."
Anat relates all too well. She found herself pregnant while serving in the Israeli army and felt that a baby would simply ruin her life.
"I will not have a future," she thought. "And I didn't have the right person to walk alongside me to tell me that it can be different and that there are many other options. So I had an abortion.
"It really devastated me because at one point in the pregnancy, I felt so good," Anat added. "I was holding my tummy, and it was such a lovely feeling, but because I didn't want to have the baby and I didn't see myself as a mother, I just shut down these thoughts and ignored that good feeling.
"Right after I had the abortion, I knew that the life I had inside of me would never come back," she continued. "This is something that I did forever, and I was so broken. I couldn't stop crying, and for many months after that, I suffered from depression. I had to move in the army from the place where I was to another place, because everything reminded me of the abortion, and I just couldn't handle life so well after that.
"When I became a believer, this was one of the first things the Lord dealt with me about and healed me from my abortion experience. And I had such a strong desire to help other women who suffer from the consequences of abortion—who are broken and never had time to grieve at all over their baby that they lost in the abortion," concluded Anat.
Today Anat gives her all to ensure that pregnant women know that they have someone to support them. She became a pro-life counselor to help others decide not to have an abortion and established a hotline so that women in crisis—not knowing what to do or facing an unwanted pregnancy—can call for help.
"I really believe that when the women have the right person to walk alongside them, when they think that abortion is the only option, God can do something else—and they can begin to see other options. They can feel that there is somebody who has empathy for them [and] can understand them and walk alongside them," Anat explained.
Sandy agrees that these women desperately need emotional and practical support, adding: "We offer hope for the mom and practical help and healing; these three things are so important. As many of the moms say, 'You have given me the possibility to raise my child with dignity, not poverty.'" To date, Sandy has helped more than 3,500 women.
"Nobody should abort because of money," Sandy insists.
"I really want to thank the ICEJ and the donors with all my heart because you have sponsored so many babies over the years, saved lives, protected women from abortions, and made a difference! Praise the Lord! Thank you so much for your love, your care, your support, and your prayers, and God bless you for caring and loving the babies and moms in Israel," said Sandy.
Anat also expressed her heartfelt gratitude:
"I really want to thank the Christian Embassy for standing with us in such a heart-touching way," she said. "I know that God is using you all for us, and we are so thankful for your prayers, for your support, for your love, and for you standing with us in this fight for life. You are tools for God to help raise our hands in this battle to fight for the babies in Israel. Thank you so much."
The counseling and practical help offered to women in crisis pregnancy provide them with necessary baby items such as a crib, stroller, bathtub, or bedsheets—as well as practical financial assistance so that the mother can purchase diapers, formula, or anything else she may need.
---
The ICEJ is dedicated to strengthening families in Israel and invites you to help us provide these basic needs for many more little ones and their mothers. Please help us to preserve life and offer a future and a hope to many more Israelis by giving your best gift today.