ICEJ Welcomes Last Flights of 'Aliyah Week'
By Anastasiya Gooding, ICEJ Staff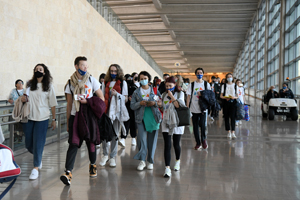 The ICEJ is still in the midst of a very busy flurry of flights bringing Jews home to Israel from all over the globe to mark the country's special 'Aliyah Week'. Here is a quick recap and update on the more than 170 olim (newcomers) we are assisting with Aliyah in the last ten days.
We started out last week by sponsoring flights for 17 SELA students who arrived on Sunday, October 10th from Russian-speaking countries, followed by funding flights for another 16 SELA students who landed on Tuesday, October 12th. These participants in the SELA program operated by the Jewish Agency For Israel are the brightest and best students and will all make positive contributions to Israel in the years ahead.
The ICEJ also assisted in the Aliyah of another group of 22 SELA students from Belarus who arrived last Wednesday (October 13th) at Ben-Gurion Airport, by funding their bus transportation, summer camps, documentation efforts and other pre-Aliyah preparation costs over recent years.
In addition, the Christian Embassy funded Aliyah flights for 50 members of a group of more than 250 Bnei Menashe immigrants from India who also arrived in Tel Aviv last Wednesday through the arrangements of JAFI and Shavei Israel.
This was followed by sponsoring flights for another 36 SELA students from the former Soviet republics who arrived yesterday (Monday, October 18th) as part of a larger group of 55 Jewish youths coming to Israel to start university studies, learn Hebrew and get settled in Israel before their parents arrive later.
Now today (Tuesday, October 19th), we are delighted to welcome yet another group of 22 SELA students who are arriving in Israel on an ICEJ-sponsored flight. The Christian Embassy also has supported these Jewish students over recent years since they started participating in Aliyah summer camps at the age of 10. It is a joy to see them finally arrive in Israel after all these years of preparation and hope!
With these latest arrivals over the past ten days, the ICEJ has now sponsored Aliyah flights for 1,468 Jewish immigrants from more than a dozen countries so far in 2021, despite the constraints and challenges of the coronavirus pandemic.
"It is exciting to be engaged in sponsoring Aliyah flights for over 150 Jewish immigrants during this special time of the year when Israel celebrates the great Ingathering of the Jewish people in modern times," said ICEJ President Dr. Jürgen Bühler. "Christians around the world join with Israel in marking the miraculous modern-day return of the Jewish people to their ancient homeland."
While rejoicing in those who have just made it home, we also need to remember that part of the Bnei Menashe group who landed last week were unable to board the flight to Israel from India after testing positive for COVID-19. There are 26 members of the group – two families stuck in New Delhi and another family still back in Manipur – who are having to isolate in India before finishing the journey home because a couple of their children came down with corona. They need our support to cover the costs of their housing and meals, as well as arranging new flights to bring them home once they have recovered, which is now expected to happen on 25 October.
In Ezekiel 39:28, God gave a promise to His people: "Then they will know that I am the LORD their God, for though I sent them into exile among the nations, I will gather them to their own land, not leaving any behind."
---
Let us take an active part in fulfilling this prophetic promise that God would not leave anyone behind. Please help them reach the Promised Land by giving a generous gift towards the great cause of Aliyah.