Israel at a Crossroads on Iran
By David R. Parsons, ICEJ Vice President and Senior Spokesman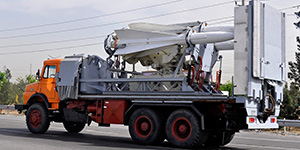 The Iranian nuclear threat has been building since the early 1990s, and every Israeli prime minister has had to deal with it in their own way. Over the ensuing years, each Israeli leader has expressed fealty to the 'Begin Doctrine' – the policy first set by Prime Minister Menachem Begin that Israel will not allow a hostile state in the region to acquire weapons of mass destruction. But it has recently emerged that due to a flurry of distractions over recent years – most notably the coronavirus pandemic and four stalemated elections – Israel may have fallen behind in its readiness to deal a lethal blow to Iran's renegade nuclear program, if needed. Some in the security and political elite are even insisting that it may be too late for Israel to handle this threat on its own and must now rely solely on the United States to deliver the Jewish state from this dilemma. Whether that is truly the case or not, the new Bennett-Lapid government is clearly at a crossroads concerning Iran's ambitions to destroy Israel by nuclear means.
The first Israeli intelligence reports about Tehran's pursuit of a nuclear weapons program hit the desk of Prime Minister Yitzhak Rabin in 1992. The program was still very early in its development then, but it is interesting to note in retrospect that Rabin sought to sell the seven-year Oslo peace process as a race against time for the forces of peace to gain control of the region before Iran did.
Over the years, Israel has been able to slow Iran's nuclear progress with Western help, but Tehran has been extremely determined to forge ahead. The ayatollahs learned the lessons of Israel's attack on Iraq's atomic reactor at Osirak under Menachem Begin in 1982 and Ehud Olmert's surprise operation against the Syrian reactor at al-Kibar in 2007. So, they have taken key components of their nuclear infrastructure deep underground in hopes of protecting them from Israeli strikes and prying Western eyes.
Over the past decade, Prime Minister Benjamin Netanyahu focused on securing international sanctions to impede Iran's progress towards the Bomb, while also carrying out a series of largely successful covert operations against Iran's nuclear facilities and atomic experts. Part of Israel's success in getting Western powers to finally take serious action against Iran was due to the IDF showing it was indeed ready to carry out a long-range direct assault on Iran's nuclear sites, including a very brazen war exercise involving a mass sortie of 100 strike and re-fueling aircraft which flew all the way to Gibraltar and back in plain sight of American and European radar. The result was a tightening of sanctions on Tehran, which forced the Islamic regime to the negotiating table, but then ended in 2015 with a weak JCPOA agreement due to the Obama administration's strangely munificent approach to Iran.
US President Donald Trump later abandoned the JCPOA, for good reasons, but the Iranians have used that as an excuse to cross a number of red lines. In recent weeks, the International Atomic Energy Agency has disclosed that Iran is enriching uranium up to 60% purity, which falls just short of weapons-grade uranium, and also has been forging uranium metal, a key part of a nuclear warhead. Israeli Defense Minister Benny Gantz also recently warned that Iran is only two months away from developing an atomic bomb if it decides to make one.
On the heels of that warning comes the assessment of former prime minister Ehud Barak, published in a column in Yediot Ahronot over the High Holy Days, that just as Iran is approaching the nuclear threshold, Israeli leaders have been distracted by the coronavirus crisis and two years of stalemated elections, leaving little in the budget to help the IDF keep its plans current for attacking Iran. Israel's only option now, argued Barak, is to strengthen its ties with the US and hope it will take the actions necessary to deliver Israel from this existential threat. He added that the US does not have any military plans at present to strike Iran, and will not likely develop any under the Biden administration. The result, he concluded, is that Israelis will have to learn to live under the shadow of a nuclear Iran.
Although he criticized the Bennett-Lapid government for helping to put Israel in this dire strait, Barak put most of the blame on Netanyahu. [It is worth recalling here that Barak sat with Bibi in a coalition government not so long ago and together they developed the "gunslinger" strategy which eventually swayed the Americans and Europeans to ratchet up sanctions on Iran.]
Only time will tell if Barak's dour assessment is right. Some suggest the Israeli military is still well-prepared for a long-range strike on Iran's nuclear assets, especially with its new squadrons of F-35 advanced stealth fighter-bombers. Others contend that the budget shortfalls can quickly be made up and the IDF still has time to update its contingency plans for striking Iran.
In any case, there is a point in time not far ahead when Iran will likely cross the nuclear weapons threshold, closing the window for Israel to carry out pre-emptive strikes in keeping with the Begin Doctrine. Let us all pray that Israel's leaders, intelligence agencies, military branches, and civilian resilience will all be up to the task should that moment come.