What Is Causing The Sudden Worldwide Shift In Support For Israel?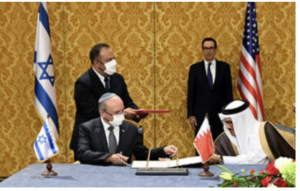 On September 15, 2020, the ministers of foreign affairs for the United Arab Emirates (UAE) and Bahrain joined Prime Minister Benjamin Netanyahu of Israel at the White House for an event that would bring about a profound change to the Middle East. The ceremony, formally known as the Abraham Accord, normalized relations between the two Arab countries and Israel. The occasion was nothing less than historic, as the UAE and Bahrain became the third and fourth Arab countries to have normalized relations with Israel.
These two nations are not the only ones to stand on the frontline of the new paradigm shift. At the press conference immediately before the Abraham Accord, President Trump said he expected five or six other countries to normalize relations with Israel. Within weeks of the peace accord, Kosovo's Muslim-majority Balkan nation moved to recognize Israel's statehood and normalize ties. On the same day, Serbia announced plans to recognize Jerusalem as Israel's capital. Sudan announced plans to normalize relations with Israel, a country that had sworn never to make peace with Israel 53 years ago. Malawi, Honduras, Guatemala, and Serbia have all broadcasted intentions to move their embassies to Jerusalem. So the real question is, what events transpired that are leading to a changing worldview of Israel?
Mutual Regional Threats
For decades, Israel has waged a tiresome battle to preserve its existence in light of Iran's global and regional aggression. Hezbollah militants in Lebanon, Iranian drones flying into the country from Syria, and an emboldened Hamas presence in the Gaza strip are a few examples of Iran's persistent attempt to destroy Israel. But Israel is not the only country with its Iranian woes.
Israel and the Arab world are threatened by an advancing Iranian nuclear program that has forced the region into a cold war. States adjacent to the Persian Gulf, such as Bahrain and the UAE, face threats to their national security and private sector from an aggressive Iranian navy. Saudi Arabia wages war against Iranian backed Houthi rebels in Yemen. This goes without mentioning other shared threats such as ISIS, al-Qaida, and other Islamic extremist groups in the region. In all, Israel and the Arab nations have developed a shared view of regional threats that have pushed the countries to cooperate in the security and intelligence sectors, which developed the foundation for the diplomatic bridge between both worlds.
An Opportunity for American Embrace
As a result of the Abraham Accord, the United States announced plans to sell F-35 fighter jets to the UAE, a move that would strengthen the Emirati military in light of Iranian aggression. The move would be somewhat controversial, as some Israelis fear their qualitative military edge (QME) over other Middle Eastern countries would be adversely affected. In the meantime, Israeli Defense Minister Benny Gantz has continued discussions with US leadership to ensure this doesn't become a major issue. From a bigger perspective, this potential move has sent a message to other countries around the world: those who embrace peace with Israel will invite possibilities of further military cooperation from the United States.
Alternatively, from a diplomatic perspective, countries that have moved to normalize ties with Israel or simply recognize Jerusalem as her capital have found themselves in the American spotlight. Guatemala, Honduras, Serbia, and Kosovo—countries with seemingly insignificant world influence—have enjoyed being hailed as advocates for peace as they have taken major steps to warm relations with Israel. Sudan, which has been on America's list of state sponsors of terrorism for 27 years, was finally removed from the list, largely a result of normalizing ties with Israel. Like Israel's steps to create peace, these smaller countries have been able to act boldly out of an understanding that the United States will be there to support them despite potential opposition from the world.
Coronavirus
Israel is accepted by many as a world leader in the world of medical technology and coronavirus research. That is why the foreign affairs ministers of both the UAE and Bahrain spoke about coronavirus research and partnerships as one of the first priorities of the new alliances. Additionally, the UAE's tourism and oil exports have slowed down as demand for both has dipped due to the pandemic. Opening these countries' economies to Israel will expand economic growth despite the coronavirus recession.
Major Diplomatic and Economic Benefits Are the Adornment
At the ceremony for the Abraham Accord, Foreign Affairs Minister Sheikh Abdullah bin Zayed of the UAE asserted, "The aim of all of these treaties . . . is to work toward sustainable development." Within hours, these words came to fruition. Bank Hapoalim, the largest bank in Israel, signed a major cooperation agreement with the National Bank of Dubai to allow more opportunities for business and trade between both countries. A day after the Accord, Emirati logistics company DP World partnered with Israeli Shipyards to open a direct shipping line between the two countries, with DP World CEO bin Sulayem stating the deal will "help our customers to do business in the (Middle Eastern) region more easily and efficiently." Direct flights, telephone communications, and an eventually post-coronavirus tourism boom are also expected to bring economic growth to Israel and the Persian Gulf region.
To refocus on Europe, Serbia and Kosovo found opportunities to warm up to one another and toward Israel at the White House in early September. Although both states—part of ex-Yugoslavia—have been at odds with one another for decades, the two reached a basic agreement to recognize one another's sovereignty (the main issue dividing them). They have also committed to economic normalization, which has reopened the dialogue between the two Eastern European countries. Simultaneously, the countries agreed to move their embassies to Jerusalem, not to mention the beginning of normalized ties between Kosovo and Israel in the first place. President Trump stated, "By focusing on job creation and economic growth, the two countries were able to reach a major breakthrough." Similarly, strengthening ties between the East European countries and Israel will create more investment opportunities, diplomacy, and tourism.
Peace Comes from Strength
Thanks to her ingenuity and a robust alliance with the United States, Israel has maintained a qualitative military edge (QME) that gives its military a winning advantage against threats from Palestinian aggression and throughout the Middle East. Because of Israel's strength, they are in a position where they may take risks for peace. On the day of the Abraham Accord, Hamas operatives retaliated by firing 15 rockets at southern Israel. Thanks to missile defense technology, such as the Iron Dome, Arrow, and David's Sling, Israel can continue seeking peace with Arab countries without paralyzing fear or desperation caused by terrorism. The same sense of strength is what gave Israel confidence when they first normalized ties with Egypt in 1979.
A Generational Shift in the Arab World
At the advent of the digital age, much of the developed Arab world has been exposed to Western ideas for peace and prosperity, particularly younger generations. Thanks to various social media platforms like Twitter, Facebook, and YouTube, many throughout the Arab world have access to the same information available throughout the West. Furthermore, much of the developed world was enabled to follow President Trump's recent deal for peace between Israelis and Palestinians and see how the Palestinian Authority responded in a typical fashion of rejectionism and violence. Witnessing these events live and unfiltered has motivated many to move forward with peace despite the Palestinians' refusal to come to the negotiating table.
Global Fatigue from Palestinian Refusal
Since the first day of Israel's statehood, the Palestinians have continually refused every peace offering from Israel that could have resulted in a two-state solution between the nations. In fact, the Palestinians have traditionally responded with violence against Israelis when peace deals were offered, with minimal or no negotiating in many cases. As discussed, the growth opportunity for many countries to normalize relations with Israel is great. To continually delay building these ties comes at an expense, especially for the Arab people, and the pain from doing so is exacerbated in times of war and disease. The idea that a two-state solution must be achieved for further peace throughout the Middle East has been proven incorrect by the Abraham Accord. If anything, the recent events have put more pressure on the Palestinians to return to the table, as the Arab voice of sympathy has been hushed by active, innovative forces for peace. This new understanding has partially opened the floodgates of prosperity between Israel and countries throughout the world.
Concluding Thoughts
There is much to accredit for the substantial progress made for peace between Israel and the rest of the world. Positive forces such as the United States' strength and Israel's innovative spirit, have enabled Israel to reach a position of strength to take risks for peace. A pro-Israel Trump administration has served a vital role in brokering peace between Israel and the Arab world, as well as leading the way with the Jerusalem Embassy move, inspiring countries from Central America and Eastern Europe to follow suit.
On a darker note, the world has experienced much hardship amid a global pandemic and recession, and an aggressive Iranian terror threat has threatened stability throughout the Middle East. All this and other unmentioned global issues have catalyzed extraordinary progress for Israeli peace, incentivizing countries such as Bahrain and the UAE to accept Israel's help in the cold war against Iran and bring life back to their respective economies.
In the new digital age, the advantages of forging relationships with Israel outweigh the costs of siding with a Palestinian Authority that continually refuses to negotiate peace. Although recent peace initiatives are far from ending the Israeli-Arab conflict, the shift has certainly begun an era of growing peace between Israel and the world.
—by Susan Michael, ICEJ USA Director