ICEJ Caring for Evacuated Israeli Families
By: ICEJ Staff
The Christian Embassy is truly on the frontlines of Israel's fierce battle with Hamas terrorism, as we bring support and comfort to many hurting people.
One key area of our support is taking care of Israeli evacuees, as thousands of people from the southern and northern border regions have been relocated to safer areas of Israel, finding shelter in hotels, guest houses, youth hostels or other temporary housing.
For almost three weeks, the ICEJ, in cooperation with The Israel Cornerstone Foundation has been hosting and caring for three evacuee families who relocated to a safe house we arranged in Tzur Hadassah, just south of Jerusalem.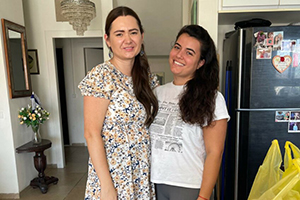 Two ICEJ staff members have been on hand night and day to look after these traumatized people. Our team prepared the rooms for their arrival, and now have been taking them shopping or to the pharmacy, sharing a word of encouragement, offering a hug, or simply listening to their stories.
ICEJ staff member Tunde recently shared a personal encounter she had while looking after the evacuees, who are all coping with trauma and how to handle the ongoing crisis.
"A Jewish girl named Elie* stood out to me," said Tunde. "Despite the pain she carries, she remains an incredibly open and smiling individual. Even during her own suffering, she never forgets to smile."
Elie invited Tunde for a cup of coffee and poured out her heart and pain, and especially her deep concern for her boyfriend, John. He is currently going through a period of depression and worry due to the abduction of his childhood friend Isaac on October 7th. Isaac had attended the music festival near Reem which was attacked by dozens of Hamas terrorists that Shabbat morning. While Isaac's girlfriend managed to escape the clutches of the terrorists, Isaac was not as fortunate. The weight of this tragedy is overwhelming, but Elie continues to persevere and fulfill her responsibilities at her company.
Elie kindly invited me to join her in reciting the Shema after sunset, as is customary among the Jewish community. She also suggested we read several Psalms together. It was truly a beautiful moment to sit with her, and to read and pray alongside her.
In moments like these, when words may fail us, sometimes simply being present with someone can convey more than words ever could.
"It is truly a privilege to serve the Jewish people during such a challenging time," said Tunde. "Our hearts are heavy with concern for their losses and the grief they are currently enduring while trying to defend themselves."
The grief and sorrow felt by these families runs deep. Everyone seems to have a friend or relative directly impacted by this great tragedy. But the ICEJ is here to offer comfort and bring hope for a better future.
And as we continue to support these displaced Israeli families with housing, food and care, please consider what you can do to help, and also keep them in your prayers.
---
At this critical time, Israelis need to know that millions of Christians worldwide are standing with them in their hour of need. Please give your best gift today.