Plant Trees and Save Lives
On the last day our 2022 Feast of Tabernacles celebration, some 700 Christians from 50 nations joined ICEJ leadership on a visit to the western Negev to take part in a special Solidarity Rally with local Israeli communities along the Gaza border and a symbolic tree-planting ceremony with Keren Kayemeth Le'Israel (the Jewish National Fund, or JNF).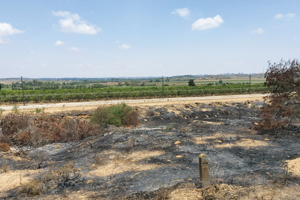 We also committed to KKL/JNF to leave a lasting impact on the region by donating trees that will revive forests in the western Negev region burned in recent arson balloon fires while also planting protective hedges to shield Israeli communities close to the border from the line-of-sight of rocket squads operating in Gaza.
In partnership with KKL/JNF , the ICEJ will be replanting scorched areas in a large section of the Be'eri Forest near the Gaza border, which will be renamed the "ICEJ Forest." This lovely forest is popular with Israelis, especially when the carpets of red anemones bloom in early spring. And KKL/JNF just added new bike paths and free bike stands to make it an even more attractive place for family visits. Thus, the new ICEJ Forest will be a lasting reminder to scores of Israelis of our support and care for their nation.
Please join us in these important efforts to beautify and regreen the western Negev and to protect Israeli communities from the intended harm emanating from nearby Gaza. These tree-planting projects will be using eucalyptus, tamarisk, broadleaf, and other species of trees that grow rapidly, do well in arid conditions, are bushy, provide good shade, and regenerate quickly after fires.
A donation of US $25.00 includes processing and delivery of your digital tree certificate and will plant one tree. Larger gifts are also welcome and greatly appreciated.
---
Please consider donating and helping the ICEJ beautify Israel and save lives.