1,700 Christians Attend ICEJ Feast Opening Night
By: David Parsons, ICEJ VP & Senior International Spokesman
The International Christian Embassy Jerusalem opened its annual Feast of Tabernacles celebration on Sunday evening (October 9) along the shores of the Sea of Galilee in northern Israel, with a standing-room only gathering of over 1,700 Christians from more than 70 nations. This marked the first time in the 43 years of this popular Christian gathering in Israel during Succot that a Feast event was held on the Sea of Galilee. The beautiful setting at the Capernaum National Park provided a perfect backdrop for the colorful pilgrims from all over the world to come together to launch the first physical Feast in three years due to the coronavirus pandemic.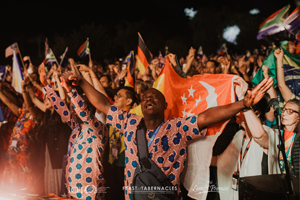 The evening featured musical performances by recording artists and dance troupes from Israel, Brazil, Norway, the Philippines, and Trevor Sampson from South Africa, known widely as the "Golden Voice of Africa."
The Feast will continue for a second night at the Capernaum National Park on Monday evening (October 10), and then move up to Jerusalem for five days of events, including the colorful 'Roll Call of the Nations' at the Jerusalem Pais Arena on Tuesday, October 11, and the popular Jerusalem March through the streets of the capital on Thursday afternoon, October 13. Feast 2022 will conclude with over 1,000 Christian pilgrims visiting the western Negev for a special solidarity rally and tree-planting ceremony with Keren Kayemeth Le'Israel and leaders of Israeli communities along the Gaza border.
Among the Christians attending this year's Feast is the former Chief Justice of South Africa Mogoeng Mogoeng, who has distinguished himself over the past year as a principled supporter of Israel. He will be receiving the ICEJ's annual Nehemiah Award this week in recognition of his strong stand for Israel and the Jewish people on biblical grounds.
Other noteworthy Christian pilgrims at Feast 2022 are Andrew Brunson, an American pastor who was held for two years in a Turkish prison on false charges of "terrorism," as well as two Iranian-born singers who will perform worship songs they have written in Persian and Hebrew.
With over 2,000 Christians participating this year, the week-long festivities from October 9 to 16 will constitute the largest Christian gathering in Israel and largest solidarity mission to Israel of 2022. This Feast also will signal the return of Christian tourism to Israel after two years of corona lockdowns and travel bans.
---
There is still time to join the 2022 Feast of Tabernacles celebration.