ICEJ Honors Yudit Setz Longest As Longest-Serving Staff Member
By David Parsons, Vice President & Senior Spokesman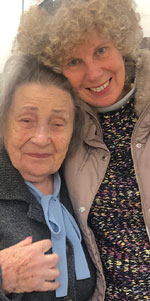 In May, Yudit Setz will mark 36 years of service with the International Christian Embassy Jerusalem, where she helped pioneer our Social Assistance Program (SAP)—today known as ICEJ AID.

Yudit Setz-Bokma comes from Holland, the daughter of Dutch Christian dairy farmers. Her grandparents hid a Jewish girl during the Holocaust who later became her mother's close friend. So Yudit grew up with a love for the Jewish people.
After completing her studies as a social worker, Yudit wanted to gain more life experience and discover God's purpose for her life. So she joined YWAM and spent six months in war-torn Lebanon in 1983 working with local Arab churches.
The next year, Yudit made her first trip to Israel to attend the Feast of Tabernacles. She came on an open ticket with little money, not knowing what lay ahead. She was staying with friends in the Negev when she met Margaret Breunesse, an ICEJ board member who told her the Embassy needed a social worker. Sensing this was God's call, Yudit took up the position on May 8, 1985, and has been faithfully serving with the ICEJ ever since.
"I recall my first day," she says. "There was a desk, a phone, and a filing cabinet. There also was a small "care closet" with clothes for the needy. But there was no one to train me, so I literally started from scratch."
In those early years, Yudit needed help preparing the Social Assistance Program's display table at the Feast. A young Dutchman named Will Setz, who was studying anthropology at Haifa University, came to help her for a few hours every Feast. Although these encounters were brief, by 1987, it became clear they were meant to be married. Will soon came alongside Yudit, and they began to expand SAP's impact together.
"In those days, we found Israelis were friendly, but after mentioning the word 'Christian Embassy,' an invisible wall went up," says Yudit. "The history of Christian anti-Semitism was deeply engraved on many Jewish people, and we were the first evangelical Christians they met."
"Slowly, Israelis came to trust us. The breakthrough really came when the staff stood firmly by Israel during the most difficult periods, such as the first and second Palestinian intifadas and the 1991 Gulf War."
"We made sure to always work through local Israeli social workers and charities. And we tried to be where Israelis were hurting most, in the midst of wars and disasters."
Raising two young sons, Avi and Yaron, also allowed Yudit to connect with Israelis in an even deeper way in tense times.
"I've seen such a change," she adds. "Israelis started to understand better who these Christians were that had come to love them."
One of her most memorable AID projects was funding Muslim Arab women near Hebron to embroider pillows with biblical scenes and emblems of our Israeli charitable partners, which were then delivered as gifts to the Israeli charities on Israel's 50th Jubilee in 1998.
She also vividly recalls paying visits to Israeli families shattered by terror attacks. And Yudit will never forget showing up with aid and encouragement to Israeli communities under rocket fire from Gaza, even when warning sirens were still blaring.
Over recent years, Yudit has focused on assisting Holocaust Survivors, a work that she and then ICEJ AID Director Nicole Yoder began to emphasize more after public protests in 2007 highlighted the plight of thousands of destitute Survivors in Israel. Out of that came the Haifa Home for Holocaust Survivors, which ICEJ began funding in 2010. Some three years ago, Yudit and Will decided to move to Haifa to oversee the Christian volunteers working at the assisted-living home and to host visiting groups.
"I felt I was born for this work with Holocaust Survivors," says Yudit. "all the years we invested in building Jewish-Christian relations just seem to be coming full circle in the way Jews and Christians and even Arabs are working alongside each other day by day to care for these deserving Survivors. It is a tremendous privilege for will and me to work together again as a couple on this. And we are driven by the thought there are only a few years left to bless these Survivors before they pass away."