Help with Urgent Aliyah Flights to Israel
By: Dr. Jürgen Bühler, ICEJ President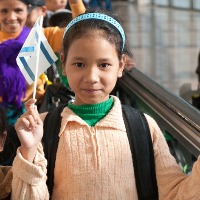 If there has been a 'silver lining' to the global pandemic over the past year, it is the increased interest among Jewish communities worldwide in making Aliyah to Israel. Right now, there are literally thousands of Jewish families anxiously hoping and waiting to come home to Israel, which they view as safer health-wise and better suited to recover economically from the corona crisis. And the International Christian Embassy Jerusalem has an opportunity to help bring hundreds of them to Israel on emergency Aliyah flights being scheduled to land before the end of May. But it will require urgent action by all our friends and supporters worldwide.
Right now, the Jewish Agency for Israel is busily planning an 'Aliyah Super Week' to begin on May 23, with flights of Jewish immigrants arriving from many directions in just a few days. They currently expect at least 400 Jewish olim (newcomers) coming home from the four corners of the earth – including from France, Ethiopia, the US, Latin America and Russia. It was originally set to be a festive week to celebrate Aliyah, but now it also has become an urgent window period for 'rescue flights' from places like Argentina and the former Soviet republics, which currently are being hit hard by COVID-19.
Another country struggling with a devastating spike in coronavirus is India, and an urgent effort is now underway to bring home over 500 members of the Bnei Menashe community from the northeast corner of India. Tragically, India leads the world by far in the daily number of deaths and new infections, with new cases now at nearly 400,000 per day. As of early May, more than 20 million infections have been confirmed in the country, while the number of deaths has exceeded 226,000 since the pandemic began. The country now accounts for well over 30% of all COVID cases worldwide, and its healthcare system is being overwhelmed beyond capacity.
Due to this exceptionally dire situation in India, the Israeli government has just decided to take immediate action to try to bring by the end of May a group of 548 Bnei Menashe who were already approved for Aliyah but were waiting to come later this year. They are desperate to reach Israel and need our help now!
This is truly an emergency for the Bnei Menashe, and the ICEJ is committing to sponsor flights for up to 100 of these new Bnei Menashe immigrants due to arrive later this month. We also want to cover the flight costs for as many of the Jewish families as possible arriving at Ben-Gurion Airport around the same time as part of the Aliyah Super Week. But we need your help!
The flights and other travel costs per immigrant comes out to around US$1,000 each. So please consider a generous donation at this critical hour of need to help these Jewish people in distress to safely reach Israel.
Thank you for giving to this urgent need!