Fourth Israeli Election Still a Draw
By David Parsons, Vice President & Senior Spokesman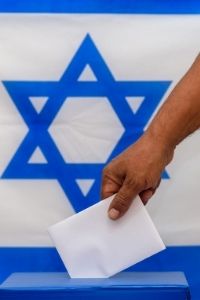 When Israelis voted in late March in their fourth national election of the past two years, the results were closer than ever. Once again, the Center/Left failed to win enough Knesset seats to oust long-time Prime Minister Benjamin Netanyahu. But he also lacks enough mandates so far to form a stable coalition. As we go to press, it looks like Netanyahu may not be able to form a government which makes it high likely a fifth election will be triggered.
Somehow, Netanyahu has managed to stay in office for more than a decade now, despite numerous determined attempts to unseat him. But the key to whether Netanyahu can remain in power this time lies within his own nationalist camp, perhaps with the cooperation of a maverick Arab party.
The election campaign wound down just as the nation was emerging from an extended coronavirus lockdown, thanks to the Netanyahu government's ambitious mass vaccination program. With almost 90 percent of Israeli adults now vaccinated, everyone was hoping for life to return to normal and for the economy to recover. This gave Netanyahu a last-minute boost, which kept his chances alive to retain the premiership. But he is also facing the dilemma that too many party leaders from his own Center/Right—namely, Naftali Bennett of Yamina, Gideon Sa'ar of New Hope, and Avigdor Liberman of Yisrael Beiteinu—are wanting to drive him from office.
What was at stake?
Israel's traditional political fault line of hawks versus doves has been increasingly irrelevant over these last four elections, taking a back seat to the simple question "Bibi or not Bibi." The peaceniks are still losing ground to the nationalist camp, but Netanyahu has been hemorrhaging support even among his own conservative base. Liberman abandoned his former ally in the last election, and Sa'ar just broke away from Likud to form New Hope on a promise to finally replace Netanyahu with a new prime minister. This has left Bennett in the critical position of deciding if Bibi stays put or not. Yet even with Bennett's support, Netanyahu still would only have the backing of 59 Knesset members, two short of the 61 majority needed to approve a government.
What is their beef with Bibi?
Many here contend that Israeli democracy was actually at stake in this election due to their perception of Netanyahu as corrupt, self-serving, and privileged. Fueled by the three corruption trials now underway against him, the drive to oust Netanyahu has become relentless. The "Black Flag" movement has staged boisterous weekly protests across the country for an entire year—despite coronavirus lockdowns and stormy winter weather. Even younger rivals on the Right, such as Bennett and Sa'ar, jumped onto the anti-Bibi bandwagon, perhaps exploiting the growing sentiment against him to accelerate their own political rise.
Bibi's rebuttal
This ignores Netanyahu's many lasting contributions to the country, such as his economic success in marketing Israel as the Start-Up Nation; his adept handling of Israel's many security challenges, including the Iranian nuclear threat; his bold, proactive response to the coronavirus threat; and his many diplomatic achievements, such as the recent Abraham Accords.
New government or more elections?
For the first time in Israel's modern history, the Arab parties are a key factor in the post-election jockeying to form a coalition government. The main Arab party, the Joint List, is still refusing to join a Netanyahu-led coalition. But the small breakaway Ra'am—an Islamist faction led by Mansour Abbas—is taking a more pragmatic line, saying their top priority is to secure advances for the Arab sector. Thus, they could provide Netanyahu with the few extra Knesset seats he needs to form a government, perhaps as a coalition partner from outside the cabinet.
The problem is that the far-Right Religious Zionism faction refuses to join a government that relies on outside support from Arab MKs. Mansour Abbas is saying all the right things to ease their concerns, promising to work for Jewish-Arab coexistence in Israel, "based on mutual respect and genuine equality." But it may never be enough for the implacable anti-Arab fringe on the Right.
Another option is for Netanyahu to pry a couple of defectors loose from Sa'ar or Liberman to join a Right-leaning government. There also is a slight chance Bennett will eventually team up with Lapid in a power-sharing deal. Otherwise, the alternative is going to yet a fifth election. The pressure to avoid that dreaded outcome will undoubtedly grow, and odds are someone will eventually flinch and break the logjam.