How Do Israel And The United States Work Together?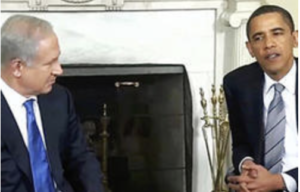 In a complex and dangerous world, there are few allies more important to the United States than Israel. The tiny Jewish State has an outsized impact in advancing America's security, enriching its economy, and improving life for its people. In turn, America is Israel's most critical ally on the face of the planet. Many wonder: how exactly do these two great allies work together?
To fight common threats like ISIS, Al-Qaeda, and Iran, the US and Israel share intelligence and jointly develop military capabilities. For instance, America funded the creation of Israel's remarkable Iron Dome defense system, which has knocked countless terrorist rockets right out of the sky. It will soon be used to guard American troops abroad.
U.S. Defense Secretary Ashton Carter credits Israeli technology and innovation used in Iraq with saving U.S. soldiers' lives. Our soldiers also routinely train together and our generals coordinate at the very highest strategic levels.
Israel and the US are also intimately tied economically. With a population of just 7 million – Israel is a vital research and development hub for American companies like Microsoft and Facebook. It has more foreign companies listed on the New York Stock Exchange than any other country besides China. 30 years ago, Israel and the United States signed America's first free trade agreement.
Israel and the USA also cooperate in scientifically vital research areas. From biotechnology, to clean energy, to healthcare, American and Israeli scientists are working together to improve all our lives. For example, Israel is home to the world's largest and most advanced water desalination plant in this world and has already pledged to use its technology and expertise to help California cope with its draught.
Perhaps most importantly, Israel and the United States share an unwavering commitment to the values of democracy and human rights, the rule of law, freedom of religion, freedom of the press, and freedom of assembly. The US-Israel friendship helps spread these values in an area of the world suffering from radicalism, fundamentalism, and discrimination.
When Israel declared independence in 1948, America was the first country in the world to formally recognize her. In the words of President Johnson, "America and Israel have a common love of human freedom and they have a common faith in a democratic way life."
While a recent policy disagreement between the two governments over the Iran agreement created unavoidable tension, both governments have voiced hope in putting it in the past. Thanks to our shared values, the Israel-America friendship will continue to flourish and grow stronger in the years to come.  
Do you have a question about Israel? Visit us at IsraelAnswers.com and get it answered!
---
For more than thirty years, Susan Michael has pioneered the development of the International Christian Embassy Jerusalem in the United States and around the world. She currently serves as the ministry's USA Director and is a member of the ICEJ's international Board of Directors.