ICEJ USA Restores Underground Shelter for Yemenite Community Near Gaza
By: Chris Chambers

Moshav Mash'en is a small Israeli farming community close to the Gaza border founded by Yemenite Jews in 1950. During the rocket war with Hamas in May 2021, the village medical center had to close down because it lacked an adequate bomb shelter to protect against the flurry of incoming rockets from Gaza.
For 20 years, the community has campaigned to repair an underground bomb shelter beside the medical clinic to keep it open during times of crisis. The room was dark, flooded with water, home to wild animals, and moldy.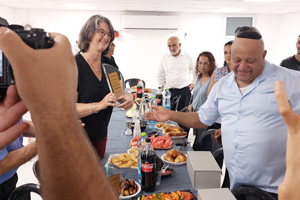 "Things looked impossible," said Amnon Ziv, security chief for the Hof Ashkelon region. "Should we collapse it or close it off? But we soon began to believe that nothing is impossible!"
This is because the ICEJ USA office came through with funds to fully restore the underground shelter, which also serves a nearby kindergarten and synagogue. In July a small ICEJ delegation attended the official reopening ceremony.
Nicole Yoder, ICEJ Vice President for AID & Aliyah, joined local community leaders in mounting a donor plaque at the shelter's entrance. She told the gathering: "This gift comes from Christians. … We are thrilled to be part of this beautiful project, and we hope it gives you peace of mind and saves lives."
Amnon Ziv and Itamar Revivo, mayor of the Hof Ashkelon region, spoke kindly about the Christian donors and explained the mammoth task of restoring the shelter. The facility is now waterproofed and has a kitchen, revamped bathrooms, and air conditioning, and the medical center can treat patients during emergencies. In addition, the bunker is now a comfortable space for year-round children's activities and community gatherings.
Mayor Revivo also noted that while the shelter will protect lives from injury and death, the rockets still cause fear and emotional trauma, which takes years to heal—especially in children. But having the security of the shelter nearby enables normal life to go on and aids in the recovery of those suffering from trauma.
Your support gives hope to many vulnerable Israeli citizens who need our help.
---
Please continue to give to ICEJ's "Israel in Crisis" fund so we can be ready to save more lives in Israel's next emergency.