ICEJ Helps Ethiopian Immigrant Students Finish High School
By: Chris Chambers, ICEJ Staff

Recently, an ICEJ team visited the village of Ibim near Sderot in Southern Israel, founded in 1953 as a collective farm. Today Ibim serves as a student village for Ethiopian and Russian immigrant families with children studying at the nearby Sapir Academic College.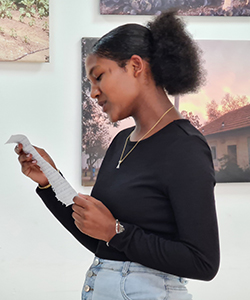 We were there to witness the pre-graduation ceremony of 22 Ethiopian immigrants, most in their early 20s, who were just one test away from completing a nine-month education program sponsored by the ICEJ that will give them the equivalent of a high school diploma.

Eldad Shauvat, director of the absorption center, addressed the students first, explaining that through this "Israel Academy," they were being given a dream start to integrate into Israeli society. He also thanked them for having the heart to study and pursue success in their new country.

The ICEJ's Yudit Setz, representing the Ministry of Education, had similar words of encouragement while urging the graduates to keep their unique culture alive in Israel. She also thanked the Jewish Agency, ICEJ donors, teaching staff, and others who had a hand in making this program possible.

"This is a pilot program—and now we hope to be able to help many more who will come," said Yudit.

ICEJ's Vice President for AID and Aliyah Nicole Yoder also had the chance to address the graduating students.

"As did your forefathers, you will need to overcome many challenges ("giants") as you settle here in the Land. However, with faith and perseverance, you will overcome—and are already overcoming—by completing this study course. We at the ICEJ and our many Christian friends around the world are happy to offer you this open door, and we wish you well as you find employment, build homes, and begin life here."

"In past years, 80 percent of Ethiopian immigrants arriving in Israel were largely illiterate," added Danielle Mor of the Jewish Agency. "Today, some 60 percent of Ethiopian immigrants arrive with an average of five years of education, and about 15 percent come with 12 years. This is what makes this program radically different."

Launched in December 2021, the new program has given students a high school standard of education in only nine months. Their curriculum includes mathematics, computers, civics, and extra Hebrew lessons. Their diploma will help them pursue other opportunities, such as vocational training or further academic studies.

The course is open to Ethiopian newcomers aged 18–35 who arrived with 8–11 years of education. However, most immigrant families opt to begin working immediately to save for the day when they move out of the absorption centers. Fortunately, the Israeli government offers unique subsidies to the Ethiopian community to help them buy homes. Still, most men seek to work to raise more funds for the down payment. Therefore, it was a sacrifice for these students to forgo the benefits of a paying job, but it will pay off down the road in better job opportunities after their required army service.
"It was a tough start, and I am very happy it is done," said Mekonan, a young 20-year-old man with drive. "I hope to become a computer technician and work in hi-tech."
Tekikil Tzega, a 20-year-old who recently arrived with her brother, shyly smiled when she shared her aspiration to become a medical doctor so she can help people.

Adesa Daraso, also 20 and living in Ibim, spoke with beautiful Hebrew on behalf of her fellow Ethiopian students. Admitting that learning Hebrew was tough at first, she added that she loves to learn and hopes to become a nurse once her IDF service is over. She arrived in Israel with 10 years of schooling and believes this program will give her better prospects than her older sister, who had only 6 years of education, and currently works in a factory.

These young Ethiopian Jews are now optimistic about their future—and our support for this program shows how the generosity of Christians is providing hope and practical support for these young men and women beginning their new life in Israel. You, too, can help make a real difference by assisting the next group of arrivals!

---
Through the ministry of the ICEJ, you can partner in helping new immigrants as they come to Israel.