Providing a "First Home in the Homeland" for New Jewish Immigrants
By: Anastasiya Gooding

Today Jewish people from many diverse backgrounds are returning to Israel from around the world, each with personal stories. Some had been planning the move for years. Others were forced to leave everything behind—save a few items in a suitcase—as they fled from war to Israel.
Each Oleh (new immigrant) arrives with a dream to build a brighter future for their families in the Jewish homeland. Of course, this starts with finding a new home—but how? And where?
One option is the "First Home in the Homeland" project, launched by the kibbutzim network in 1989. "First Home" has welcomed hundreds of immigrants and provided a soft landing spot while they learn the Hebrew language and decide where to settle permanently.
Newly arrived Jewish families are welcomed to the kibbutzim—Israel's renowned system of collective farms—where they study Hebrew for their first six months. Many stay for a full year if there is space on the kibbutz. This program also provides a built-in community, with mentoring and other assistance from local kibbutzniks (kibbutz members), whom they encounter daily.
Currently, some 48 kibbutzim in northern and southern Israel are providing homes for Jewish families who have just made Aliyah.
Last year 210 immigrant families benefited from this open door. This year, Israel has experienced a sudden influx of 130 new families due to the crisis in Ukraine, which has also stirred immigration from several other Russian-speaking countries. Thus, the program has been scrambling to find additional farming communities that can offer apartments. In response, 10 new kibbutzim quickly joined the First Home in the Homeland program. Yet much work remained for coordinators urgently seeking to prepare places for the new arrivals.
To start, local kibbutz families donated furniture in good condition for the open apartments. However, more furniture and appliances—beds, kitchen tables, study desks, chairs, clothing closets, refrigerators, air conditioners, and many other items—were still needed to furnish those apartments. The Christian Embassy heard of this urgent need and stepped in to help cover the budget.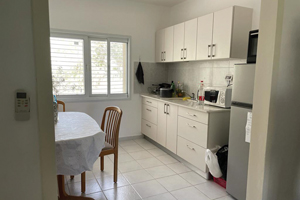 Our gift went to ensure full furnishings for 50 apartments in Kibbutz Revivim and Kibbutz Mashabei Sadeh in the south, as well as in kibbutzim near Nahariya in the north. In one instance, we helped furnish apartments in a vacant hostel with small one-room apartments connected by an open door so the new families would have two units each to make their stay more comfortable.
In addition to donating these home furnishings, the ICEJ is also providing the new immigrant families with gift packages of household items, such as blankets, sheets, and towels. Our ICEJ AID team recently delivered welcome baskets to 20 families during a visit to Kibbutz Revivim; the other 30 families will receive their baskets soon.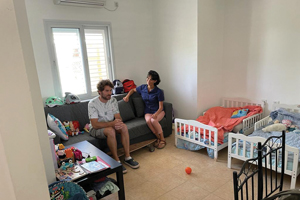 The ICEJ delegation was warmly welcomed at Revivim, where the immigrants were amazed to hear that the gifts were from caring Christians worldwide. After just a few months in Israel, each family was already able to introduce themselves in Hebrew, and there were smiles and warm cheers all around.
Despite being in the Negev desert, Revivim has been turned into a very green, charming place with modest homes and a peaceful atmosphere for more than 800 residents. The kibbutz is a diverse community of Russian, Brazilian, and Sephardi Jewish families, Anglo-Saxon immigrants, young Israelis completing their national service, and now the new Ukrainian and Russian-speaking immigrants.
Many more immigrants need our assistance as they establish themselves in their ancestral homeland. You can help us ensure they are warmly welcomed and provided for as they adjust to their new life in Israel.