ICEJ Helping to Anchor Small Businesses in Israel
By: Laurina Driesse
Walking through the narrow streets of a shouk (market) in the city of Beersheva, in southern Israel, the aromatic smells of all kinds of wonderful spices permeate the air as you near a little Indian food store.
The owners, Anand and Esther Kumar, are originally from India and lived for five years in the United States before following their dream and making Aliyah to Israel together with their two young children in 2017.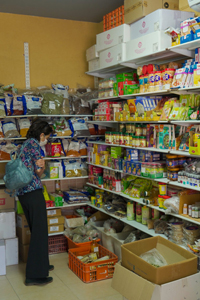 Anand comes from a hi-tech and entrepreneurial background, while Esther hails from a sales environment. Soon after their arrival, an opportunity arose to take over an Indian goods store. With a third child just recently born in Israel, they could not resist this chance to grow a business together. So, in July 2019 they began giving the store a taste of their own unique flavor, with a wide variety of spices. They started out well but had to take out significant loans to fund the business. Then only seven months later, COVID-19 struck…
They found themselves in uncharted waters and had to find a way to survive the economic storm by keeping their little store afloat amid the stringent lockdowns.
The ICEJ recognized the challenges of small businesses during this critical time and supported a local business association and social community initiative which provided mentoring for small businesses in Israel's periphery. It also encouraged community business owners to work together to lower the costs of getting their product to the larger markets in the center of the country.
Business owners were given various tools, such as developing a website to improve their marketing. Our support also allowed them to find creative ways to adapt their businesses to the changing times. Perhaps one of the most important strategic lessons learned was that to survive, they needed to start selling their products online. As Anand and Esther's business fell within the essential services category, this allowed them to operate as a delivery company. They received guidance in setting up their website and online store, and very soon the orders flooded in! With much hard work and dedication, they began supplying orders across the country.
"We went online and now 80% of our business comes from the internet and from our delivery model", shared Anand. "So that has helped us survive, or else we would have closed a long time back. Two years is a long time for a small business to survive. I would say that almost 60 to 65% of the small businesses in the Beersheva shouk closed in this time. And there are so many shouks in the country which faced the same problem," he continued.
"In the two and a half years since we began doing this, we have more than 1000 Indian students that we serve on a monthly basis", added Anand.
Nicole Yoder, ICEJ Vice President for AID and Aliyah, got a taste of their spicy Indian fare when she visited Beersheva recently.
"Small businesses make up 54% of Israel's gross national product, which is pretty amazing", explained Nicole. "And over the last few years, they have also had a huge struggle, particularly if they are in the south or the very north of the country, since most of Israel's population resides in the center. And so, the further out that you get from the center, there is more difficulty having the resources needed if you need to ship your items or do other things, to get your products to where the customer is. And so, they end up having to pay more, which puts more burden on them."
"It was really a unique opportunity that developed out of the corona pandemic because of a 250% increase that happened in the Israeli market for online purchases. Because of the lockdowns, people were not able to get out and go shopping like they normally do. So, this was an opportunity for these businesses to reinvent themselves, … take their business further afield and do it more inexpensively. By doing that, they needed to create acquisition groups, they needed to work together. And this is what we have helped them work towards, to assist them with this process to expand and to grow and to survive and thrive in the coming years," concluded Nicole.
Anand and Esther expressed their gratitude with a smile.
"I'd like to thank the Christian community from all over the world who has came in with their open arms to help us out… It might be a small step for people from far away, but for us it meant a lot and has helped us. So, this is a thank you message for everyone who has come out to help small businesses like us to help us be hopeful", shared Anand.
"Thank you for keeping us positive always", added Esther.
Since our Aid team's visit, we have received news that Anand and Esther, ever the entrepreneurs, are about to embark on a new adventure in the Beersheva shouk, where they plan to open an Indian restaurant. So, not only has your assistance helped preserve the livelihood of this Indian Jewish immigrant family, but it also is providing jobs for others as well. Next time you are in Beersheva, you are welcome to visit the shouk for some delicious Indian food! Thank you for your generous giving, which enables the ICEJ to support those who are struggling in Israel by providing them with opportunities that will help them thrive and aim for a more hopeful future.
---
Your donations help the ICEJ assist businesses like this one in times of need. Donate today to be a part of this wonderful blessing.