New Team of Christian Volunteers Serves Holocaust Survivors
—by Yudit Setz, ICEJ Haifa Home Director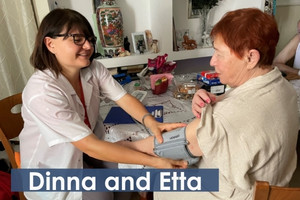 In early fall, we were thrilled to welcome Dinna, Birgit, and Christine, who are three of the five new Christian volunteers coming to serve at the ICEJ's Home for Holocaust Survivors in Haifa. We now have two nurses and a physiotherapist serving the precious Holocaust Survivors, and the two remaining volunteers will join us soon. They are replacing our previous volunteer team whose time here ended last summer.
Dinna was born in Kyrgyzstan but raised in Germany, and her language skills in German and Russian are a great tool in her daily work. To hear about the Haifa Home is quite different than seeing it on the ground, and after being here now for several weeks, Dinna is pleasantly surprised as she makes her rounds and gets to know the residents.

"What a nice project!" she exclaimed. "The residents have their own apartment and yet are not alone but have a community of fellow residents and staff that do everything they can to make everyday life easier . . . God is pausing my life in Germany so that I can serve these Holocaust Survivors here in Israel."

Birgit was born in Germany but came to us from Switzerland. She is a well-educated and experienced physiotherapist, having worked in different countries and cultures, and she immediately put her expertise into practice.

"It's a privilege to work with people who survived the Holocaust, especially as a German and in the land of Israel," noted Birgit. "I am impressed and touched by the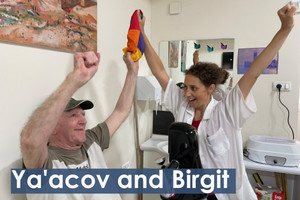 warm welcome I received from residents and staff alike. I am amazed how fast they embraced me."

Mobility is very important for the elderly, and besides her individual physiotherapy sessions, Birgit is leading three exercise groups.

"It's a blessing for me to bring joy to the lives of these elderly Survivors who suffered so much and to feel a heart connection," added Birgit. "It is truly worth it, to leave everything behind."

Christine was born in Kazakhstan and raised in Germany. She brings her talents as a nurse and educator to caring for the aging residents, many over 90 years old.

"I love to work with the elderly, to make their life easier. I also desire to show God's love for them through my work," explained Christine. "I was very impressed with how they are very happy we are here. This was very surprising for me."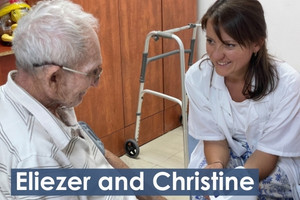 As we look ahead, we are filled with expectation and excitement! With a new and bigger team, we are planning more ways to improve the quality of life for the residents. We are renovating the two community activity rooms where many events currently take place so that they are more welcoming. We also are planning more fun and enriching activities for the residents.

In addition, the permit to install an elevator in the ICEJ's newest apartment building at the Haifa Home has been approved. This means by early next year, we can place more Survivors in the six new housing units.

Finally, in November we will open a new branch of the national Call Center for Holocaust Survivors in Jerusalem. This facility will expand our efforts to reach out and help more Holocaust Survivors across Israel in their final years.

It is a great privilege to care for these precious Holocaust Survivors, and we are grateful for the support of all the wonderful donors who help make this possible. 
---
Your continued support of the Haifa Home community ensures these Survivors will enjoy a good quality of life in their remaining years.