The Haifa Home: A Multicultural Tapestry
—by Yudit Setz, ICEJ Haifa Home Director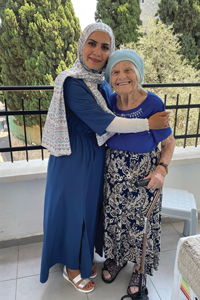 A beautiful tapestry begins to emerge as one looks at the "family" of residents and staff at our Haifa Home for Holocaust Survivors. Despite all the tensions in Israel between Jews and Arabs and religious and non-religious, a culturally different group of people is woven together here with the common goal of giving Holocaust Survivors the best life they can live in their last years. Added to this multicultural fabric are foreign caregivers from Asia and Eastern Europe and the ICEJ's Christian staff, making the Haifa Home so unique!
Here's a look at the dedicated staff caring for the Holocaust Survivors:
Sabrina the Caregiver
Sarah, age 93, is assisted by Israeli Arab caregiver Sabrina, 29, who helps her five days a week. Born in Jerusalem into a Muslim family, Sabrina moved to Haifa when she got married and soon joined our "family."
"It was love at first sight," Sabrina recalled about the day she first met Sarah. "In school, we learned about the Holocaust, but Sarah also shares her past with me. I like to listen, and I like to learn. I have a special relationship with Sarah. I love to help her and know what she needs even without words being spoken. We laugh a lot too!" said Sabrina. Sarah half-jokingly responded: "Sabrina is very important to me. I will not give her to anyone else!"
This lovely relationship between a religious Holocaust Survivor and a religious young Muslim woman is contagious. "I love to work here. Everyone, residents and staff, knows me and loves me, and I feel like I am part of a family," said Sabrina.
Boutros the Painter
Born in Nazareth to a Christian Arab family, Boutros (56) started to work at the Haifa Home some 18 months ago. He is continually fixing and painting people's
homes and helping residents with odd jobs. The residents and staff love Boutros because he does great work and is friendly. "The residents are all like my mother, who also lives in a home for the elderly. I love to help them and do work for them," said Boutros. Holocaust Survivor Esti had to exclaim: "He is such a great guy" as she passed by while he was fixing the staircase in her building.
Julia the Chef
An only child in a Jewish family, Julia (48) immigrated to Israel in 1996 from Ukraine, together with her husband and daughter. Their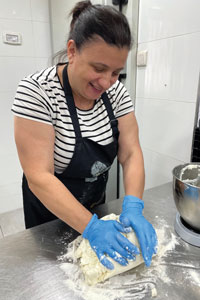 second daughter was born in Israel. Her parents also immigrated soon after.
Both her parents suffered during the Holocaust, and her grandmother's entire family was murdered. Early last year, Julia became our chef and works with a team to prepare three daily meals for the residents. "It's so much fun to serve the residents. That's why I come to work with joy every day. I love them and want them to feel good," said Julia. Whenever Julia receives a request from the Survivors for a special traditional dish they like, she happily makes it for them.
Nanu the Dining Hall Server
Nanu (40) was born in Gondar, Ethiopia. Her family had dreamed of seeing Jerusalem for generations. When she was a little girl of 10, her family set out on foot and walked for one month to reach the nearest big city. From there they took a bus to Addis Ababa. In 1991 she arrived in Israel with her family in Operation Solomon.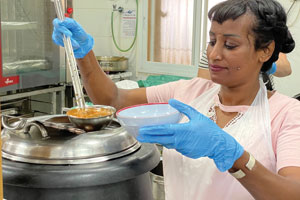 Nanu lives with her husband and two children in Haifa, and although she was never able to fulfill her dream to become a social worker, she is happy to serve our residents in the dining room. "I love to help people, especially the elderly. During the meals, I have a lot of interaction with them. Everyone is so nice, and it gives me a lot of joy to be able to help," said Nanu.
Fadi the Social Worker
After finishing several degrees, among them social work, and a diplomatic stint at the Israeli Embassy in Jordan, Fadi (38)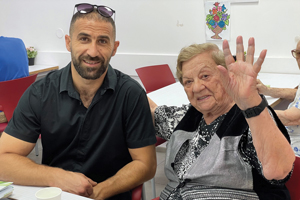 decided to concentrate on social work and the elderly, as this is his passion. Born in Hurfeiz to a Druze family, he is happy to work with our Survivors. "The Druze are a minority within a minority in Israel. I very much identify with the Israeli people, who were a minority in Europe and everywhere they lived. I am very much aware of their suffering. I love to help people who do not have a voice, and I want to be that voice in those places where it needs to be heard," expressed Fadi.
Naomi, Who is Always Available
In 1963 Naomi immigrated from Poland to Israel with the "Youth Aliyah" program. Families were not allowed to leave Poland at the time, so her parents and youngest brother came later to Israel.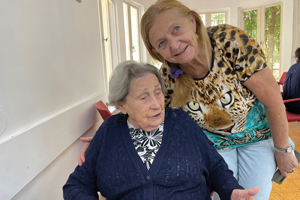 Naomi is always only a phone call away and works far beyond her normal hours. Over the past seven years, she is always willing to try to solve any problem, big or small, that residents may have. She is an indispensable member of the staff.
"For me, it's the closure of a circle. What I couldn't do for my parents, I am able to do for the residents today, and that gives me much joy," said Naomi. Both parents suffered unspeakably in the Holocaust but never said a word to their children. It wasn't until Naomi was already married with three children that she stumbled by accident upon her mother's painful past. The only thing her mother said was: "I survived Auschwitz because they used me as their sex slave." Her father survived the Babi Yar massacre near Kiev, staying alive in the mass grave and fleeing to join the partisans. Only at the end of his life while he was sick did they discover the great wounds on his back and hear his story.
Ahmed the Maintenance Man
Three months ago, Ahmed (49) started doing maintenance and odd jobs at the Haifa Home. After spending 27 years in and out of prison, he truly desired to make a complete change in his life. He married, moved to Haifa, and now has two daughters. The next step was to support his family, but not many people were eager to hire him with his past. "In prison, different Holocaust Survivors came to visit us and share their stories of suffering. This touched me so deeply. I felt these are the people I want to help the most," said Ahmed. When his wife heard about the Haifa Home, she visited and inquired about work for Ahmed. There was certainly enough to do, and Ahmed was given a new chance to prove himself and serve others in need.
---
Our Haifa Home is an environment of love, support, and friendship not just for its residents but for all involved with its daily workings. You are a part of making that possible.