A Small Family's Flight To a New Future In Israel
By Anastasiya Gooding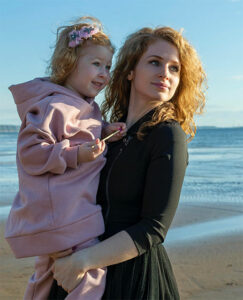 Last week, Israel welcomed a 'rescue flight' for stranded Jewish families desperately seeking to make Aliyah – a flight arranged by the Jewish Agency for Israel and sponsored by the International Christian Embassy Jerusalem. On this flight, 226 Jewish immigrants from across the former Soviet Union were brought to Israel to start a new life in their ancient homeland. Each one came with their own expectations, hopes and dreams concerning this major turning point in their lives. They made the decision to leave everything behind and move to an unfamiliar land which also happened to be promised to them by God thousands of years ago. They came to make a fresh start in a place where they truly belong.
Today, we want to acquaint you with the life story of Alexandra and her daughter, who arrived in Israel at a difficult time for the whole world, but with the brightest of hopes. Alexandra is a 35 year-old mother with a wonderful 4 year-old blond baby girl, Miroslava. Since childhood, Alexandra has built fond memories on her Jewish roots. The main reason for her strong Jewish identity was her father, a doctor of physical and mathematical sciences, who devoted his whole life to science and family.
"My dad is a Jew. I have known this since childhood and am proud of my father", said Alexandra.
Even though Alexandra always knew she was eligible for Aliyah, the circumstances always seemed to be inappropriate for taking such a big step toward a new life in Israel. "It seemed to me too difficult and almost impossible, but I really wanted to move to Israel", she recalled.
As life went on, Alexandra got married and gave birth to her beautiful daughter. Unfortunately, she did not find support from her husband for this desire to build a future in Israel. "I hid my dream deep inside myself", she said.
Then 2019 turned out to be a very difficult year in Alexandra's life, as her marriage broke up. But thankfully, her daughter remained in her life. And even this dark moment became the catalyst she needed to open the door to a bright new future in Israel.
"In 2020, I decided to take a trip to Israel to look around," Alexandra said, "but then the coronavirus pandemic broke out. I spent a lot of time at home and had a lot of time to think. It was so strange that I had never been to Israel before, but I always felt like I was part of the Jewish state", she added.
Since travel was widely banned in 2020, it become the year of online communication. Sure enough, Alexandra met and began corresponding online with a man from Israel, and what began originally as a casual friendship blossomed into a romantic one. But the borders between the countries remained closed. So Alexandra urgently sought advice on what steps she had to take to make her dream of Aliyah come true. She connected with a coordinator of the Jewish Agency, who counseled, explained and walked with her throughout the Aliyah process.
Alexandra recounted how her family reacted. "My parents were thrilled with my decision to make Aliyah and they supported me and helped to collect all the documents I needed."
Her new special friend also provided tremendous support from Israel. "He helped to find my relatives in Israel. Now all my relatives are friends again!"
Her flight to Israel was scheduled for February 1. But right before departing, Ben-Gurion Airport was completely shut down for the first time ever due to corona restrictions.
"It was so hard! Everything was ready and then this delay", Alexandra recalled. "Not knowing how long it will be… Living out of our suitcases."
That is when the Christian Embassy played a huge role, sponsoring the 'rescue flight' for Jewish immigrants in limbo – like Alexandra – from all across the former Soviet Union. Because of this flight, Alexandra and Miroslava have finally arrived in Israel for the first time. And this small family can now begin planning their future – which just might include her new Israeli friend.
"Now we are at home, in Israel", Alexandra said with great excitement. "This is an ideal place to raise a child. Now I have a great responsibility, and it gives me the strength to move forward", she concluded.
Together with the ICEJ, you can reach out to other Jewish families throughout the world who are longing to come home to Israel. The ICEJ's Aliyah efforts provide the bridge for them to rejoin the Jewish people in their biblical homeland.