Haifa Home and the War in Israel
By: Yudit Setz, ICEJ Deputy AID Director
The sudden outbreak of war on October 7 on the Jewish celebration of Simchat Torah and the horrific atrocities perpetrated against innocent civilians and soldiers has left Israel in great shock and grief. The "Never Again" of the Holocaust became suddenly: "It's happening again!" The pure hatred of Jews living in Israel and outside the Land has raised its ugly head with great vengeance. This certainly has a great impact on our residents.
Our 97-year-old resident Sarah was so scared that she didn't want to leave her room anymore—not even to the dining room to eat. Also, the fact that many of her grandchildren are called up in the army is difficult for her to handle. Fortunately, she is doing better now and was able to go again for a little walk with her caregiver. When one of our staff asked her how she was doing, she said: "I am closer to turning 100."
Not all our elderly residents are aware of what is happening. The daughter of 101-year-old resident Miriam, who spent more than 5 years in ghettos and concentration camps, said: "I am so grateful that Mom is not aware anymore of what is happening around her."
Lena made Aliyah one-and-a-half years ago from Ukraine: "For two months, I was in a war situation and under bombing in Ukraine. Every time I read Psalms 91 and 121 I had faith and hope that God would save me and my children, and so He did. Now, I am in Israel and going through the same situation. I choose to believe and hope that God will not leave us, because without God, we can do nothing."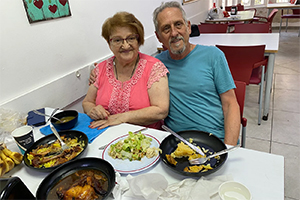 Chaya is happy that Shaul, her son, who lives in Australia, is on a few months' visit to Israel. At this time, he is a great help to her. "This war situation is very difficult for me," says Chaya. "But the fact that you are here with your team makes all the difference to me." As she was saying this, her son agreed: "Yes, this is not just the feeling my mom has but also for us as children. We see with how much love the ICEJ team cares for the residents; you are all so kind and nice and always there to help, and you do what you say. We know that our mom is in good hands."
Huge Challenge
Although we have some bomb shelters available, the Home is not just one building but several buildings and apartments on different streets. With elderly residents who have walking difficulties and some who are in wheelchairs, it is almost impossible to get to the bomb shelter within one minute. We are looking for options and preparing for all kinds of scenarios if a war would break out on the northern border. If that would happen, we know that it will not be easy. It might mean that our residents must stay in shelters for a prolonged time. No one knows, and there is a lot of uncertainty. Please pray for God's supernatural protection, both body and soul, of our residents.
Starting to Feel at Home
The transition from the war zone of Ukraine to Israel at an old age has been difficult for our Ukrainian residents. Now, after a year and a half, everyone had their own journey of putting some roots down in their ancient homeland.
Anatoli came with his wife, Maya, to escape the dangerous war situation in Ukraine, leaving everything behind. Although he is a handy and practical man who used to have many tools, once in the Land, he started spending his time reading about the history of Israel. Slowly, he began to grasp how amazing Israel is and realized, "Now I know that this is the Land I want to belong to; this is where I want to be. I feel good and content. This is my home. The ICEJ team has very much helped me and Maya to feel at home. I am not afraid of the war. Israel is strong and will overcome also this one."
Thanks to Our Adopters!
We are grateful for our adopters, who faithfully donate month after month. Besides finances, adopters have established wonderful relationships with our residents through correspondence and even personal visits. It means so much to our residents!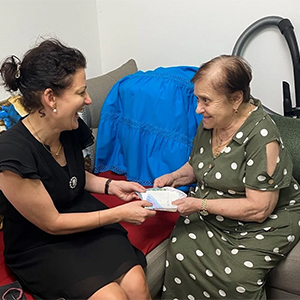 Daniela, one of our German adopters, came to visit her adoptee, Sheila, when she was in Israel for the Feast of Tabernacles. Despite the language barrier, they so enjoyed each other's company. A big thank you to all our adopters!
ICEJ Team
God called us here for a time like this. Although we are missing some of our team, we are doing everything we can to take care of our dear residents and their caregivers at this time.
Please pray for God's divine protection over our residents and staff and protection of body and soul!
---
You can make a difference in the life of a Holocaust Survivor by supporting our Haifa Home.